Conor McGregor proclaims boxers would be 'dismantled and killed' in a real fight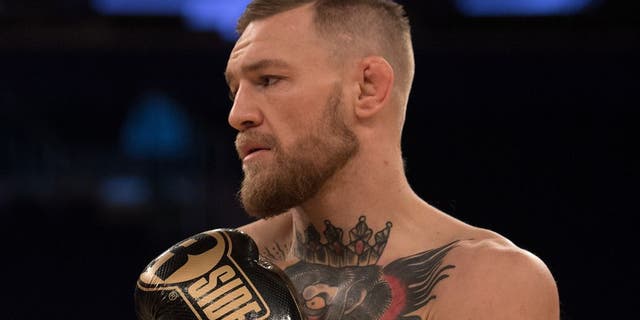 Conor McGregor may be preparing for a boxing match with former pound-for-pound king Floyd Mayweather, but he hasn't lost his passion for mixed martial arts.
The reigning UFC lightweight champion is already brushing up his boxing skills in anticipation that the fight with Mayweather will get inked with rumors attached to a fight date in September for the showdown between arguably the two biggest draws in combat sports history.
Just recently, McGregor took to Instagram where he showed off work with his head striking coach Owen Roddy while also pointing out that while he's happy to fight under boxing rules for his next fight, he will never forget where he came from.
McGregor boasted about his boxing skills but also knows the pecking order in combat sports will always be commanded by mixed martial artists, who are capable of beating an opponent anywhere the fight might go.
"Myself and [Owen Roddy] have been working together on unrestricted, unarmed fighting, since we are kids. Not much will change when I fight under the famed, yet very limited, Queensberry rules (boxing rules)," McGregor wrote.
"No disrespect to single discipline fighters, from boxing to kicking to grappling, just know that understanding one style of fighting is simply not enough. You are lying to yourself. You are easily dismantled in a true fight. A fight with no rules to protect you. In a straight fight, you do not posses enough tools to keep you alive. You will be dismantled and killed."
McGregor didn't single out boxers or even mention Mayweather by name, but it's not hard to read between the lines where the lightweight champion was focusing.
McGregor has never actually been involved in a pure boxing match but his confidence seems high as he continues to negotiation for a fight with Mayweather that could net the Irishman north of $75 million in earnings.
The latest post from McGregor ended with a quote from the late Bruce Lee, who seemed to echo his sentiments when discussing how to prepare for a real fight with no rules.
"Like the late, great Bruce Lee once said," McGregor wrote. "When you are talking about fighting, as it is, with no rules, well then baby, you'd better train every part of your body"
Zuffa LLC via Getty Images | Josh Hedges/Zuffa LLC