Conor McGregor hosts homecoming Q&A event in Dublin during fight week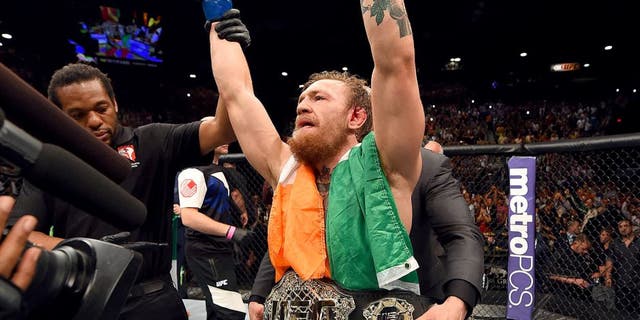 NEWYou can now listen to Fox News articles!
Conor McGregor won't be fighting at next weekend's UFC Fight Night card in his hometown of Dublin, Ireland but the interim featherweight champion has arranged for his first public appearance to take place at a special Q&A session with fans on October 19 and 20.
The event dubbed 'The Takeover' happens at the Wright Venue in Dublin with McGregor and his teammates Cathal Pendred, Gunnar Nelson, current "Ultimate Fighter" competitor Artem Lobov and coach John Kavanagh all taking part.
The intimate question and answer sessions over the two day event will only hold around 1,800 fans with a moderator from The Independent in Ireland talking to the fighters while fans will also get to engage with McGregor just two months out from his title fight against Jose Aldo at UFC 194.
McGregor just recently returned home to Ireland after defeating Chad Mendes at UFC 189 to win the interim featherweight title and will spend most of his time on the Emerald Isle as he prepares for Aldo in December.
While the most popular fighter from Ireland won't get to participate in the UFC show taking place there on October 24, McGregor organized this event instead with fans able to purchase tickets to the small setting Q&A over the two day event.
With his title fight looming in December this might be one of McGregor's only public appearances before he travels back to Las Vegas for UFC 194.
McGregor will be in attendance at the UFC Fight Night card on Saturday to support his teammates including Pendred, who faces Tom Breese in a welterweight contest on the preliminary portion of the show.
For more information on the event or to get tickets visit Event Brite.