Conor McGregor faces lawsuit from fellow UFC fighter over bus attack, report says
UFC superstar Conor McGregor is reportedly facing a lawsuit from a fellow fighter over a bus attack at the Barclays Center in New York City that left several people injured.
Michael Chiesa – who was set to fight Anthony Pettis at UF 223 before McGregor's meltdown – is suing the former champion, TMZ reported Monday. Chiesa suffered cuts to the body and face when McGregor threw a hand truck at a bus that was parked at the Brooklyn arena.
Chiesa also suffered "severe emotional distress, mental trauma and/or bodily harm," TMZ reported, citing a lawsuit filed in New York state court. He accuses McGregor of assault, battery and intentional infliction of emotional distress.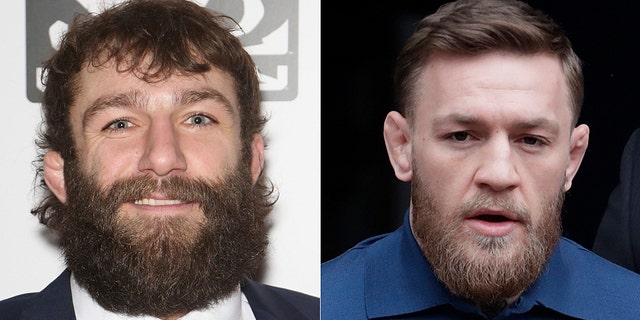 Chiesa also accuses the Barclays Center of negligence, claiming they failed to establish proper security measures to protect him and other people involved in the attack, according to the gossip website.
McGregor pleaded guilty in June to disorderly conduct and needed to perform five days of community service to resolve charges stemming from the incident. He was also forced to be evaluated for an anger management program and was barred from contact with the fighters he injured in the melee.
McGregor wasn't subject to any travel restrictions, and if he stays out of trouble for a year his record will be wiped clean.
"I just want to say I'm thankful to the DA and the judge for allowing me to move forward," McGregor said at the time. "I want to say to my friends, my family, my fans, thank you for the support."
McGregor is set to return to the octagon in October to face rival undefeated lightweight champion Khabib Nurmagomedov at the T-Mobile Arena in Las Vegas.
Fox News' Matt Richardson and the Associated Press contributed to this report.