Connor Cook's shoulder injury healed and ready for Alabama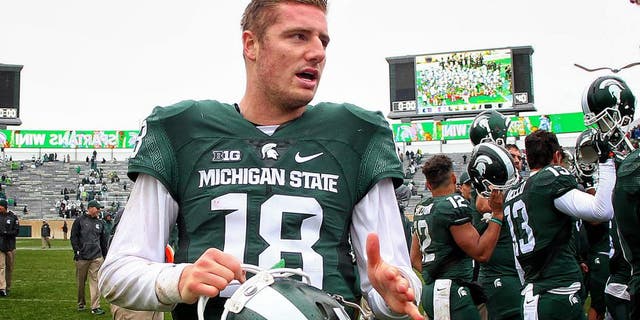 NEWYou can now listen to Fox News articles!
No. 2 Alabama wasn't the only team to arrive in Dallas Saturday night, as No. 3 Michigan State has also arrived in Dallas for the national semifinal Cotton Bowl. As soon as the Spartans came available to the media, questions surrounding senior quarterback Connor Cook's injured shoulder were asked of the Spartan signal caller.
In Michigan State's latest game, the Big Ten Championship against Iowa, Cook completed only 16 of 32 passes and appeared notably affected by his ailing shoulder injury suffered against Maryland Nov. 14.
Cook believes the time off between the Dec. 5 conference title game and the New Year's Eve semifinal playoff game will be the best thing for his shoulder heading into the game.
"When you have an injury and stuff, you can rehab it. You can ice it or whatever, but rest is key," Cook said Saturday. "I was able to do that. Didn't really throw a whole lot. Went home and did some extra rehab stuff. Lifted a little bit. Strengthened it. And rested. I think it's the best it's felt so far. That's for sure."
Alabama senior linebacker Reggie Ragland understands limiting the Spartans experienced quarterback will be key to earning the Tide's first ever playoff victory.
Going up potentially the best quarterback they've seen all season, can the Tide put enough pressure on Cook to prevent a Michigan State win, or will the Spartan quarterback help lead his team to another upset victory?