CONCACAF Gold Cup: Mexico Thumps Costa Rica, Looks Like Team to Beat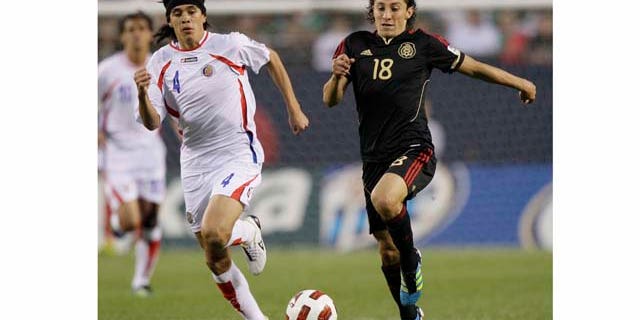 News flash: The great Chicharito did not score any goals for Mexico on Sunday.
No need to panic or jump out the window because Javier Hernández failed to reach the back of the net. El Tri's latest romp in the CONCACAF Gold Cup, a 4-1 triumph over Costa Rica that only demonstrated they are far from a one-man show and, for that matter, a pretty good team.
Midfielder Andrés Guardado put his best foot forward to grab the spotlight. He led the way with two fabulous goals within a seven minute span in the first half as America's favorite soccer team embarrassed yet another foe, and supposedly a pretty decent one at that, before yet another capacity crowd at Soldier Field.
With the first round just about complete, there is no doubt that the Mexicans are the class of the competition. If there is anyone who wants to argue about that, please have him or her boldly step forward.
The gut feeling here is that there will not be many, if any, takers.
The defending champions are the team to beat, although after their first three matches -- 5-0 routs of El Salvador and Cuba, and Sunday night's massacre -- there hasn't been a team that has come close to laying claim it can keep pace with El Tri.
The United States, which is supposed to be the other class team in the tournament, has plenty of problems of its own, as was demonstrated during its 2-1 loss to Panama on Saturday night.
That defeat ended the Americans' 26-game unbeaten streak in group stage matches in the competition and showed some weaknesses and liabilities that, if the two rivals would play today, El Tri – Giovani dos Santos, Guardardo, Chicharito and company – would be in position to exploit and then some.
If the U.S. doesn't get the win it needs against Guadeloupe on Tuesday, we might see those two archrivals play a lot sooner than all of us anticipated in a quarterfinal game at New Meadowlands Stadium in East Rutherford, N.J. on Saturday, rather than in the final at the Rose Bowl in Pasadena, Calif. on June 25.
On Sunday, it was gratifying to see Guardado take center stage. He endured a difficult season for Deportivo Coruña, missing several weeks with a pulled leg muscle.
When he returned to the lineup, Guardado became a mainstay in the team's attack in its quest to remain in Spain's La Liga. He played well, but as it has been said about Chicharito, it takes more than one man to make a soccer team successful.
Deportivo did not have enough pieces and was relegated to the Second Division.
Knowing Guardardo's background and watching his performance against the Ticos, there is little doubt he will surface with a First Division side somewhere.
After captain and central defender Rafa Márquez headed home a corner kick in the 17th minute (hint, hint: New York Red Bulls coach Hans Backe, use Márquez as a receiver and not as a server on set pieces), Guardado enjoyed a scintillating seven minutes.
First, he volleyed a spectacular shot home with his right foot from the left side of the penalty area to boost the Mexico lead to 2-0 in the 19th minute.
Seven minutes later, Guardado scored on a nifty run down the left side of the penalty area for an insurmountable 3-0 advantage. For the record, Pablo Barrera closed out the scoring for Mexico in the 38th minute.
If there were any blemishes for the Mexicans, it was that they actually allowed their first goal of the competition and that Hernández was allowed to stay in the game too long.
Costa Rica's Marco Ureña earned the distinction of becoming the first opponent to solve Mexico in the 69th, snapping its 249-minute scoreless streak.
A few minutes after I thought coach José Manuel de la Torre had left in key players such as Chicharito in a match that was decided long ago, Hernández was holding his face after tussling with defender Johnny Acosta.
De la Torre was forced to replace the Manchester United standout in the 82nd minute. He will need a healthy Hernández for supposedly greater challenges down the road.
The word supposedly was used because no team has stepped up to challenge Mexico -- at least not yet -- in this competition.
Competition is also another word because well, there has been little competition. Perhaps Honduras, Jamaica or the U.S. will step up.
Until then, the Gold Cup is Mexico's to lose.
Michael Lewis, who has covered international soccer for three decades, is a frequent contributor to Fox News Latino. He can be reached at SoccerWriter516@aol.com.