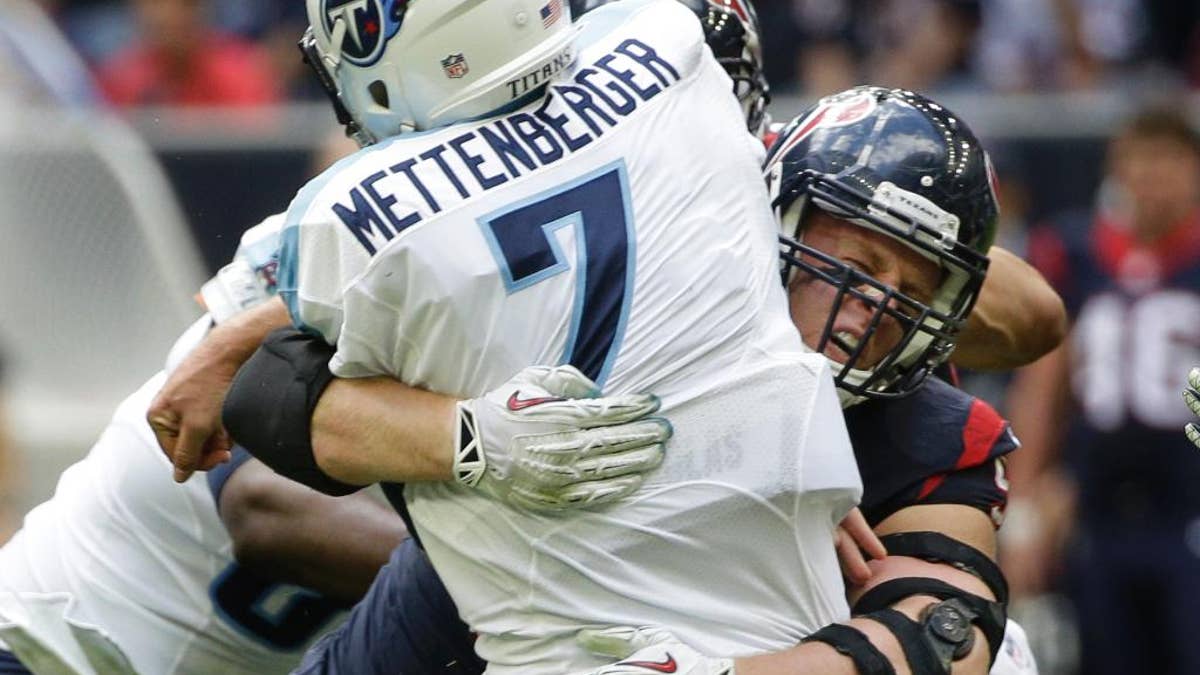 NASHVILLE, Tenn. – Tennessee rookie quarterback Zach Mettenberger says he "definitely" will play Sunday against the New York Giants despite a sprained right shoulder.
Mettenberger said Wednesday it's his body and he feels fine as he works through the soreness. Both the X-rays and MRI exam were negative, and the sixth-round draft pick out of LSU isn't trying to prove he's tough. This is his NFL audition with the Titans (2-10).
"Right now this is my team," Mettenberger said. "I can't think about next year. All I have is the opportunity to play this Sunday and who knows what could happen. I could get hurt or whatever. But right now my opportunity is to play this Sunday and show that yeah, I'm the best guy for this team and hopefully for the future as well."
Mettenberger sprained his throwing shoulder during the third quarter of a 45-21 loss to Houston after being hit by J.J. Watt. In five straight starts, the rookie has thrown for 1,270 yards and eight touchdowns with five touchdowns for a 91.8 passer rating. He has thrown a TD pass in each of his starts but has yet to win a game for a team that has lost 10 of 11.
"Losing sucks," Mettenberger said. "It's that simple ... Really all we can do is keep grinding, keep staying focused and take it personal really. That's the only way we can get a win."
Coach Ken Whisenhunt remains optimistic Mettenberger will play barring a setback. The quarterback was limited in practice, testing his shoulder throwing some short passes.
The Titans need to see Mettenberger keep growing with four games left this season to know whether they need to draft another quarterback in May. Whisenhunt said Mettenberger is improving each week, and the coach wants to see him keep that up.
"All this time that he's getting is invaluable as far as understanding the position and us getting a chance to see what he can do," Whisenhunt said. "You can't create a scenario where you can actually work on something that you'd like to see. You hope that some of those things come up, but we're getting a lot of good information about him."
The challenge for the Titans and Mettenberger is the health of their offensive line, which Whisenhunt said was "not great." Mettenberger's starting tackles did not play against Houston and did not practice Wednesday with left tackle Taylor Lewan's left ankle heavily taped and right tackle Michael Oher still in a walking boot on his left foot.
"I really don't know about their chances," Whisenhunt said. "We'll have to see as it progresses. We signed another tackle. Obviously, it's something we needed to do because of where we are with the line, and hopefully those guys will continue to get better."
Right guard Chance Warmack was limited by a sore ankle but Whisenhunt said the second-year lineman is expected back.
Mettenberger said he hasn't had a conversation about whether he could hurt his shoulder further by playing.
"I can't think like that," Mettenberger said. "I can just go out there and play ball. I can't think about getting hurt anymore, so I'm not going to worry about that."
The Giants (3-9) placed two defensive ends on injured reserve Tuesday in Mathias Kiwanuka and Robert Ayers. New York coach Tom Coughlin called Mettenberger a strong-armed young man.
"He's got an outstanding arm," Coughlin said. "He throws the ball into any spots on the field, tight spots, open spots, and accurate."
Notes: Mettenberger will be without one of his receivers with Justin Hunter on injured reserve. Hunter was released Wednesday from a Houston hospital and flew back to Nashville on a private plane courtesy of Titans president Tommy Smith. ... DE Kam Wimbley (left hamstring) also did not practice. CB Blidi Wreh-Wilson (back) was limited, and DB Marqueston Huff (hamstring) practiced fully.
___
Online:
AP NFL website: www.pro32.ap.org and www.twitter.com/AP_NFL
___
Follow Teresa M. Walker at www.twitter.com/teresamwalker