Column: Denying labor giant Marvin Miller again means joke is on the Hall of Fame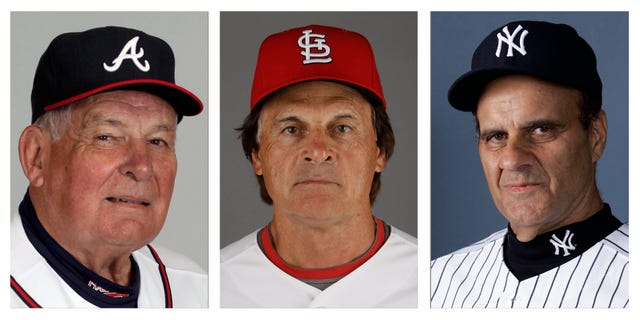 Somehow, some way, Marvin Miller is going to have the last laugh.
One tribute to the pioneering labor leader at the time of his death little more than a year ago noted that Miller was still listed in the phone book at the time. What should have been included, as someone who called the number more than once could attest, is that you were bound to end up chuckling at something or other he said; and in the moment after that, you could be just as certain the laughter would come echoing back.
There was nothing funny about the decision Monday by the baseball Hall of Fame's expansion-era committee to leave Miller on the ballot, where he's languished since 2001, and out of the Cooperstown shrine. Three very worthy retired managers went in unanimously and there's no quibbling with the selection of Joe Torre, Tony La Russa and Bobby Cox.
"Marvin Miller should be in because he made an impact on this game, and I was part of that, too," said Torre, a former player who served as a union rep during Miller's reign.
Yet crowded as the ballot was, of the dozen names the committee had to choose from, the simple fact is that none may have been more deserving.
Yet Miller probably would have laughed at that outcome, too. After coming close in 2007, he asked that his name not be included on any future ballots, a position his son reiterated ahead of this year's voting.
"No one in the family will participate," Peter Miller said in a statement.
His father was never one to stand on ceremony, either. Miller came over to the players union in 1966 after cutting his teeth as an economist for the United Steelworkers of America. He wasn't awed or inexperienced at dealing with men of great means, and appeals about the important place the national pastime occupied always mattered less to him than getting a fair deal.
During his tenure, Miller secured for players the right to free agency, collective bargaining, impartial arbitration, representation by agents and even the chance to kill a trade after collecting sufficient big-league service. When he departed in 1982, he left behind the strongest labor union in the country.
A dozen years later, when baseball's players and owners were once again locked in the labor equivalent of a death spiral in late July, Miller was working as a consultant to the MLBPA. He answered the phone at his home and listened patiently while a reporter argued why there wouldn't be a stoppage this time around; namely because owners stood to lose around $9 million every day games weren't played and the players roughly half that amount.
There was a brief silence on the other end of the line.
"I've seen the owners miscalculate before and so have you," Miller said finally. "Sounds like they're determined this time to show they have hair on their chests."
And then he started laughing.
What's funny is that after that set-to, MLB's management became the most reasonable among the major North American pro sports. They quit trying to balance their mistakes on the backs of their players, and began seeking solutions to problems of competitive imbalance by sharing more revenue.
What's sad, though, is that other than the brief endorsement from Torre, all of the testimonials to Miller in the wake of Monday's decision were offered by guys on his side. You don't know whether that was due to lingering resentment, just as we don't know whether Miller's loud and oft-repeated opposition to the union's agreement to a drug-testing program cost him votes among the former players on the expansion-era committee. Hall of Fame voters have been unsparing in their opposition to the players tied to the use of performance-enhancing drugs — see Bonds, Barry and Clemens, Roger — so perhaps some of the taint rubbed off on Miller, too.
The distinction may still be too fresh for some number of former players, managers and sports writers on the current committee. And Miller's is hardly the only deserving name on the ballot awaiting the sweep of history to make things right. The late George Steinbrenner, another outsized, outspoken figure who played a big role in driving players' salaries through the roof, was passed over in the same election. The Boss won seven World Series titles, but got suspended twice and some feathers, once ruffled, take longer to settle than others.
Steinbrenner's rejection likely would have amused Miller and vice versa. And if nothing else, there's cold comfort in imagining the two sometimes-adversaries and giants of the game needling each other about being locked out of a clubhouse they so lavishly furnished.
___
Jim Litke is a national sports columnist for The Associated Press. Write to him at jlitke@ap.org and follow him at www.twitter.com/JimLitke .