Colts remove 'pitch count' on Frank Gore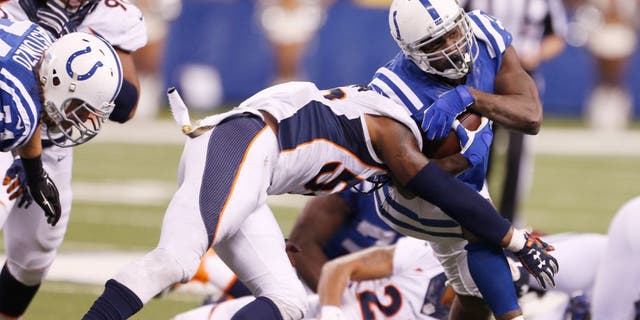 After limiting Frank Gore's carries for the much of the season, Indianapolis head coach Chuck Pagano said there won't be any restrictions on the running back's workload in the coming weeks.
At the beginning of the year, Pagano told reporters the Colts were putting the 32-year-old Gore on a "pitch count" in order to keep him healthy long-term.
However, Gore's 28-carry, 83-yard performance in the win over the Denver Broncos, coupled with the loss of quarterback Andrew Luck for 2-6 weeks with a lacerated kidney have promoted a change in tactics.
On Wednesday, Pagano indicated the time to be cautious with Gore's workload has passed. With a playoff spot at stake and their star quarterback out of the lineup, the Colts are prepared to let Gore play a more prominent role in the offense.
"If he's rolling like (he was against Denver) and we're staying balanced and he feels good, we're going to do what we have to do to win the ball game," Pagano said, per the Indianapolis Star.
Through the first seven weeks of the season, the 11-year veteran carried the ball more than 20 times just once. He's had 20 or more carries two of the last three games, including against the Broncos.
Gore said he's ready to take on more carries, adding that his running style allows him to stay healthy despite the usual wear and tear at his position.
"I don't get hit," Gore said. "They can't really hit me (with) a clean shot. I guess I've just been blessed."
Gore and the Colts take on the Falcons on Sunday.
MORE NEWS: Want stories delivered to you? Sign up for our NFL newsletters.