Colts release LB D'Qwell Jackson as cost-cutting measure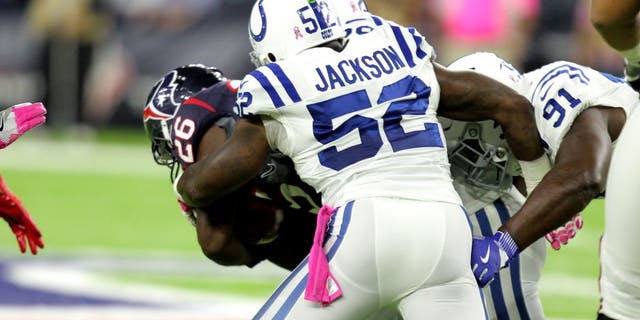 INDIANAPOLIS -- Linebacker D'Qwell Jackson became the first cost-cutting loss of the Indianapolis Colts' offseason.
He probably won't be the last.
New general manager Chris Ballard made his first significant move Thursday, releasing the 33-year-old defensive signal-caller as the Colts attempt to rebuild their struggling defense.
"D'Qwell is a consummate professional," coach Chuck Pagano said in a release issued by team officials. "The way he approaches the game is second to none. His leadership and mentorship provided a valuable example for the younger players on this team. We are grateful for all of his contributions to the organization and wish him the best."
Jackson was a three-year starter for the Colts and had one year remaining on the four-year contract he signed in 2014.
He led the team in tackles in each of his first two seasons and finished second last season despite being suspended the final four games for violating the NFL's performance-enhancing substance policy.
But releasing Jackson will save Indy $5.5 million under the salary cap and will allow to either bring in a younger player with more upside or go with two players, Edwin Jackson and Antonio Morrison, who filled in after Jackson was suspended.
It's a decision that could be a precursor of what's to come.
Franchise sacks leader Robert Mathis already has announced his retirement. Linebackers Trent Cole and Erik Walden and safety Mike Adams, all in their 30s, could become free agents next month. And if Ballard releases oft-injured defensive lineman Art Jones and cornerback Patrick Robinson, the Colts could clear another $7.6 million.
If all of those moves occur, Ballard would have an opportunity to turn one of the league's older defenses into one of the younger ones virtually overnight.
When Ballard was introduced to local reporters on Jan. 30, he made it clear that's where he intends to focus initially.
"Defense wins championships," he said. "That definitely is a priority and that's probably why I have such respect for Chuck because he is a defensive head coach."
Jackson was Cleveland's second-round draft pick in 2006 and played seven seasons with the Browns before joining the Colts.
He leaves the Colts with career totals of 1,219 tackles, 19 1/2 sacks, seven interceptions, 13 fumble recoveries and one touchdown.