Colts' oldest stars shine brightest, Indy extends AFC South dominance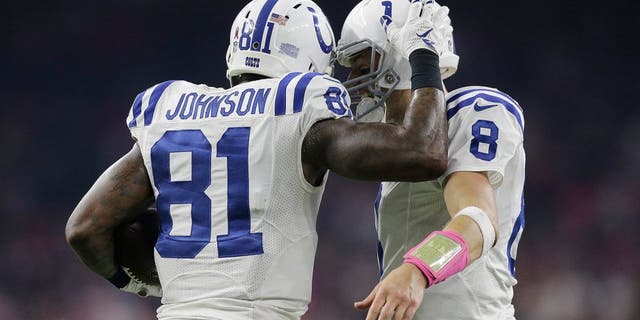 Andre Johnson had two touchdown catches against his former team to help the Indianapolis Colts beat the Houston Texans 27-20 on Thursday night.
Johnson, who spent his first 12 NFL seasons in Houston before he was released in March, pushed the lead to 27-17 with a 2-yard touchdown reception from Matt Hasselbeck in the fourth quarter. Johnson finished with six catches for 77 yards.
The Colts (3-2) extended their AFC South winning streak to an NFL-record 16 games.
Brian Hoyer, who replaced Ryan Mallett for Houston (1-4) in the second quarter, threw a pass up for grabs that was intercepted by Mike Adams with less than 2 minutes left.
The 40-year-old Hasselbeck was filling in for Andrew Luck, who missed his second straight game with a shoulder injury. Hasselbeck may not have been 100 percent either, after missing practice Tuesday with an illness.