Coach Rex Ryan plans to fix Bills' penalty woes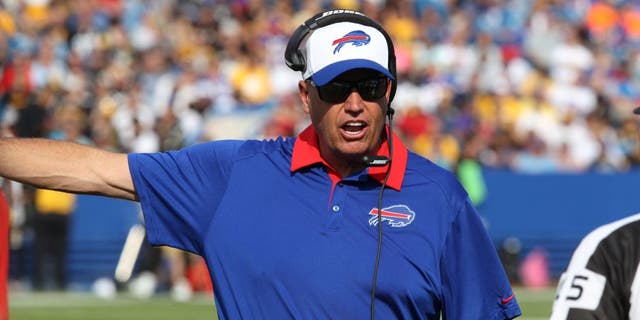 NEWYou can now listen to Fox News articles!
ORCHARD PARK, N.Y. (AP) Yellow flags have become a red flag for Rex Ryan and the Buffalo Bills.
The Bills (2-2), who play at Tennessee on Sunday, are coming off a 24-10 loss to the New York Giants. The Bills committed 17 penalties for 135 yards.
Ryan, who vowed to ''build a bully'' when he came to Buffalo in January, downplayed the role of penalties Sunday. He defended his players for displaying fight in the loss.
Ryan's demeanor was different on Monday.
''The penalties is something that kind of keeps you up at night trying to think of what to do, how we can fix it,'' Ryan said Monday. ''It doesn't go away by talking about it, or that would already be done.''
Penalties have become a pattern for the Bills in the early part of the season.
Buffalo committed 14 penalties for 140 yards in a 40-32 loss to New England on Sept. 20. Ryan said afterward the Bills needed to do a better job of controlling their emotion and aggression on the field.
Last week, Ryan said he wanted the Bills to be the least-penalized team in the league following a 41-14 victory at Miami in which they were flagged only five times.
Through the first quarter of the season, Buffalo leads the NFL with 47 penalties for 428 yards. The Bills are on pace to break the records for most penalties (163) and most yards penalized (1,358) set by the Oakland Raiders in 2011.
''Make no mistake, we are trying to get it fixed,'' Ryan said. ''I have talked to a bunch, some of the coaches, veteran coaches on the staff.
''I have talked to some coaches around the league. I have put calls into the league itself. We are trying to do things. I am not going to share some of the things we are going to do physically and everything else until I have a chance to address my team.''
Bills players were off on Monday.
Ryan noted that penalties don't always correlate with losing. He cited the Seattle Seahawks, who have led the NFL in penalties the past two seasons while advancing to the past two Super Bowls.
''So sometimes penalties don't tell the whole story,'' Ryan said. ''But sometimes they do.''
Penalties cost the Bills on Sunday. They had two touchdowns called back and were penalized for an illegal formation on a Giants field-goal attempt that led to a New York touchdown.
Personal fouls in particular have hurt the Bills. They took four on Sunday, bringing their season total to 11. Ryan received a penalty for unsportsmanlike conduct on the sideline during the loss to the Patriots.
''Put it on me,'' Ryan said. ''It definitely starts with me.''
Ryan said he will consider benching players if the personal fouls continue.
''When you think it's crossing the line or something like that, you've got to get a guy back and let him focus on the job at hand,'' Ryan said.
Linebacker Jerry Hughes received two personal foul penalties against the Giants and has four on the season.
''Jerry is a great football player, but if there is a negative about Jerry, we have to get that curtailed,'' Ryan said. ''He doesn't need to get a personal foul.''
NOTES: Ryan did not provide an update on injured starters RB LeSean McCoy (hamstring), WR Sammy Watkins (calf), LG John Miller (groin), and S Aaron Williams (neck). ... The Bills will need to make a roster move this week to accommodate LB IK Enemkpali, who is coming off a four-game suspension for punching QB Geno Smith while he was a member of the New York Jets.
---
AP NFL website: www.pro32.ap.org and www.twitter.com/AP-NFL