Chuck Pagano on relationship with Belichick: 'I don't have his number'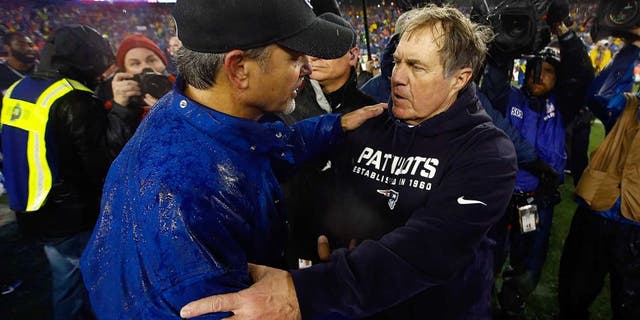 NEWYou can now listen to Fox News articles!
The Indianapolis Colts' role in sparking the Deflategate controversy that engulfed the New England Patriots during their preparation for the Super Bowl and throughout the offseason, has created some tension between the teams, to say the least.
And based on Indianapolis head coach Chuck Pagano's comments Wednesday, some of that tension may still be unresolved.
Pagano told reporters he hasn't spoken to New England head coach Bill Belichick since last January's AFC title game.
"No, I don't have his number," Pagano joked, per Comcast SportsNet New England's Mike Giardi.
Pagano went on to say he hasn't spent much time thinking about the controversy or its aftermath.
"I really haven't given it any thought to be honest with you for the past eight months," Pagano said. "Our focus has been on this football team getting ready for our season, the offseason program, training camp, preseason and now we're into Week 6. It's preparation for today, preparation for the upcoming game, period."
When Pagano and Belichick finally touch base on Sunday, they should have plenty to talk about.
MORE NEWS: Want stories delivered to you? Sign up for our NFL newsletters.