Christian Pulisic says USMNT is going to 'come out with a win' in Mexico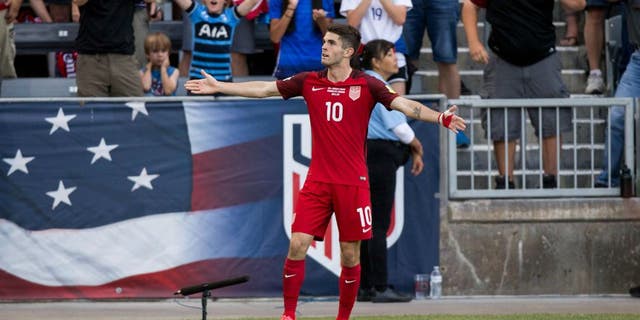 NEWYou can now listen to Fox News articles!
The United States have never won a World Cup qualifier at Estadio Azteca in Mexico City. They've only managed two draws in those matches. But don't tell Christian Pulisic that.
The 18-year-old, fresh off of scoring two goals in the Americans' 2-0 win over Trinidad and Tobago on Thursday, said the U.S. is going to walk away from Mexico with a historic win.
Its gonna be a tough one down there in Mexico. But we really want some revenge on them from when they got us earlier this year. So, were really confident going into that game. Were going to come out with a win there, too.
Seeing as Pulisic helped Borussia Dortmund win the DFB Pokal and didn't just move into the U.S. starting lineup, but became an outright star for his country all in the last year, he has plenty of reason to be confident.
Call what he said a guarantee, or whatever you'd like, just don't discourage him from this kind of confidence again. For starters, a player has to think his team will win a match, no matter how difficult it is, or what's the point of even playing it? It'd be a problem if he didn't think the U.S. would win in Mexico. And, on top of that, we should encourage this kind of personality and expression from stars of all countries. It makes things better for all involved.
So Pulisic thinks the U.S. will beat Mexico. Damn straight. That's what he should think*.
* But yeah, it's going to be really hard for Pulisic and Co. El Tri are the best team in CONCACAF and Azteca is a monster.