Chicharito Fails to Score, Salcido Helps Fulham Draw, and Vela Impresses in Debut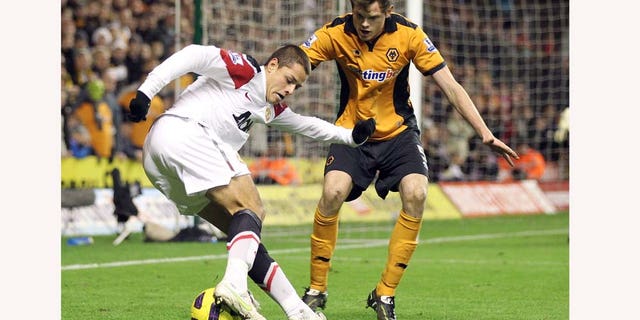 A weekly recap of how Mexican internationals fared over the weekend.
Javier "Chicharito" Hernández
It seemed like when Manchester United has been in trouble on the road this English Premier League season, manager Sir Alex Ferguson merely goes to his bench. Chicharito would perform his magic and the Red Devils would walk out with a draw or a victory.
Three times Javier Hernández struck as a substitute in an an away match.
So, when the Mexican international came on for Dimitar Berbatov in the second half against Wolverhampton Wolves on Saturday, United's supporters were ready for another goal or two from the miracle worker.
As good as he has been for the English Premier League leaders this season, Hernández is far from perfect. Wolverhampton's stalwart defense made sure the 22-year-old striker could not get the ball enough to find the back of the net as ManU went down to a 2-1 defeat as the team saw its 29-match unbeaten streak end.
Wolverhamton kept virtually every player behind the ball for the final half hour to preserve the rare win over the EPL powerhouse. The Wolves rarely allowed an attacking player get a good angle to shoot in and around the penalty area.
So, the next time Chicharito will be able to perform some goal-scoring heroics will be Wednesday night, when El Tri meets Bosnia-Herzegovina in an international friendly at the Georgia Dome in Atlanta, Ga.
Hernández, Fulham defender Carlos Salcido and Racing Santander forward Giovanni dos Santos were among the high-profile European-based players called into the squad by Mexico coach Jose Manuel de la Torre.
Carlos Salcido
While he did not figure in the scoring Salcido helped Fulham earned a 2-2 draw with Aston Villa. Salcido replaced defender John Paintsil in the 61st minute. Paintsil had scored an own goal in the 13th minute. American Clint Dempsey headed home the equalizer, his 10th goal of the season, in the 78th minute.
Carlos Vela
He hasn't found the back of the net in two appearances for West Bromwich Albion since his loan from Arsenal, but Vela has impressed. The forward played 58 minutes in his debut last Tuesday, a 2-2 EPL draw with Wigan Athletic on Tuesday. Vela came on at halftime, replacing Jerome Thomas in a 3-0 defeat to Manchester City Saturday.
Vela was one of the few bright spots for the Baggies.
"He was a threat and he was busy," manager Roberto Di Matteo said before he was fired Sunday. "He had a couple of good opportunities where he put himself in a good position to take advantage."
It was unknown how Di Matteo's departure would affect Vela. Michael Appleton was named interim manager.
Efraín Juárez
After playing the full 90 minutes in Celtic's 3-0 Scottish Premier League victory over Aberdeen on Tuesday, the defender did not dress for the Hoops' 2-2 draw with archrival Rangers in the fifth round of the Scottish F.A. Cup at Ibrox on Sunday.
The forward did not play in Racing Santander's 1-1 draw with Sevilla in Spain's La Liga. He is on loan to the club from Tottenham.
Jonathan Dos Santos
Dos Santos, a midfielder, came on as a 62nd-minute substitute for Barcelona B, but did not score in a 1-0 loss to Xerez in the Spanish Second Division.
Francisco Javier Rodríguez
Rodríguez, a defender, did not dress for PSV Eindhoven's 1-0 defeat to ADO Den Haag.
Pablo Barrera
The midfielder did not dress for West Ham United for its 1-0 home loss to Birmingham City in the EPL.
Michael Lewis, who has covered international soccer for three decades, is a regular contributor for Fox News Latino. He can be reached at SoccerWriter516@aol.com.