Chad Knaus wouldn't let Jimmie Johnson do a burnout after historic win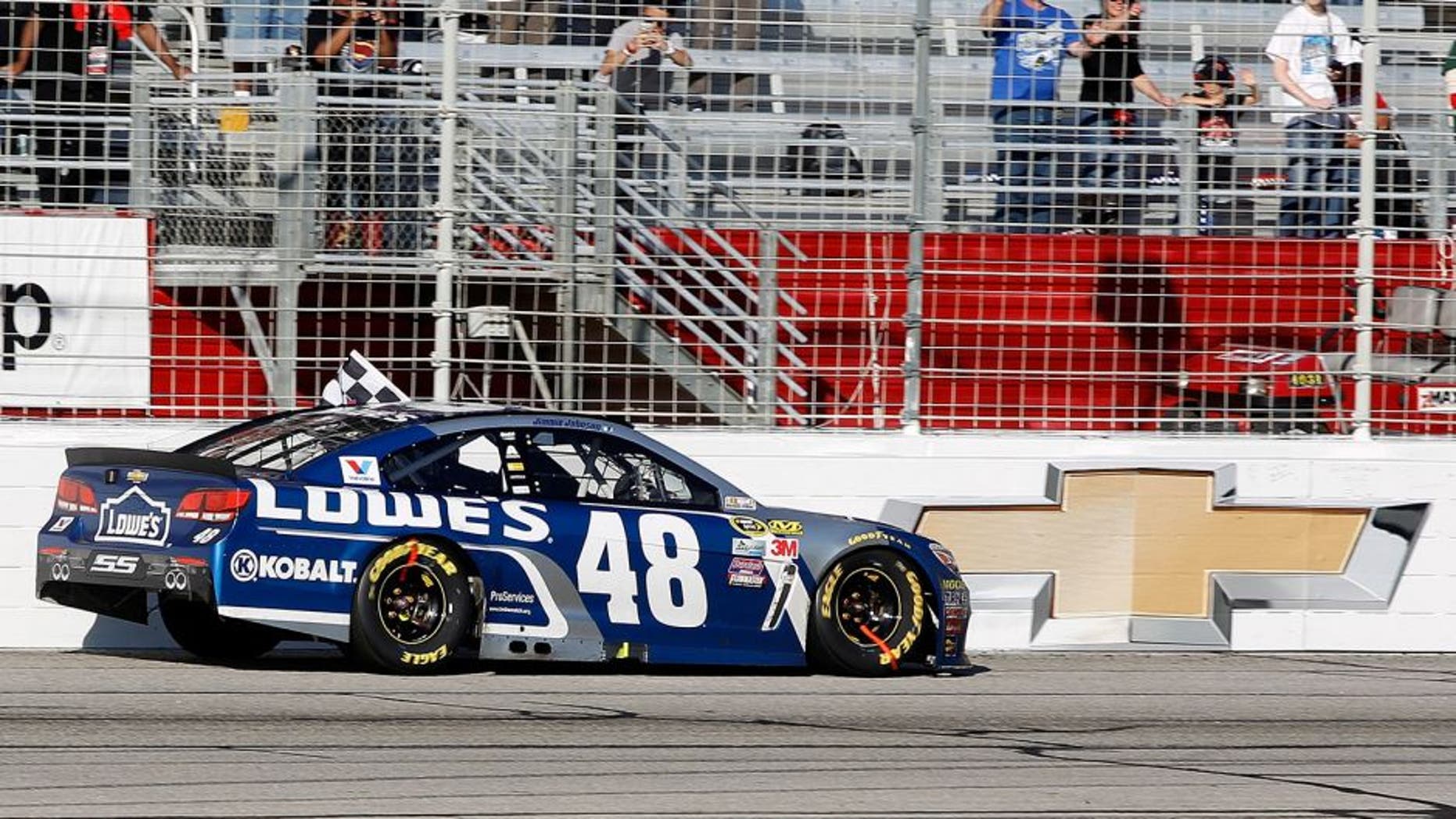 After tying the late Dale Earnhardt on the NASCAR Sprint Cup Series' all-time wins list with his victory on Sunday at Atlanta Motor Speedway, Jimmie Johnson desperately wanted to perform a burnout in celebration of his landmark achievement.
The six-time Sprint Cup champion didn't get the opportunity however.
Moments after triumphing for the 76th time in NASCAR's top series, Johnson received some specific instructions over his in-car radio from crew chief Chad Knaus.
The marching orders were simple: Don't do a burnout.
"I still did kind of a small one," Johnson told reporters after the race. "I wasn't told why, but I wasn't sure why."
Johnson later found out why when Knaus explained his reasoning to reporters in the Atlanta Motor Speedway media center.
Seems the six-time Sprint Cup champion crew chief was concerned about a burnout possibly causing Johnson's car to suffer damage -- which theoretically could have caused problems for the No. 48 in post-race inspection.
Johnson's car ultimately passed inspection without any issues, but on Friday NASCAR stripped Kyle Busch of his pole run when officials found an irregularity with the rear toe of Busch's No. 18 car as it crossed NASCAR's laser inspection system.
"Man, did you see what happened to the 18 on Friday?" Knaus asked rhetorically. "I'm not taking any chances right now. I don't want anything bent or broken or anything to warrant any type of problem right there. ... We don't know what these cars do during a race, especially at a racetrack like this where there's a bunch of bouncing and moving and so on and so forth. There's a lot of wear and tear on these race cars throughout the course of an event, and I just didn't want to take a chance on him tearing something up doing a burnout and not passing post-€'race LIS. Yeah, that's why."
Johnson hopes there are still more burnouts in his future.
"You just get used to doing one," he said. "It's so much fun to do it, burn the tires off the car."