Chacin, Greinke square off again in Padres-Diamondbacks rematch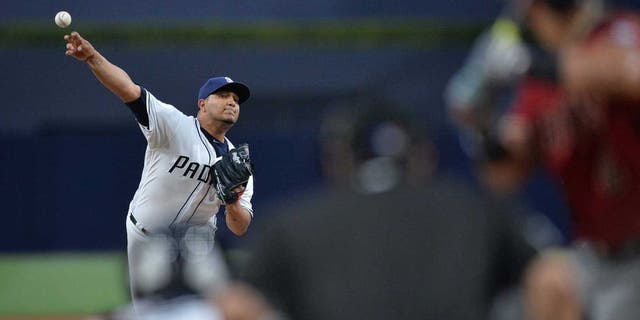 NEWYou can now listen to Fox News articles!
PHOENIX -- Do you like pitching?
Arizona Diamondbacks right-hander Zack Greinke and Padres righty Jhoulys Chacin hooked up in a dandy when they met at Petco Park on Wednesday, a 1-0 San Diego victory in which the winning pitcher gave up only three singles and the losing pitcher threw a complete game.
The reprise is Monday at Chase Field, where baserunners are a little more commonplace.
Greinke and Chacin will meet in the opener of a four-game series that matches two teams going in slightly different directions, at least for the time being, despite the fact that the Padres took two of three from Arizona in the series last week.
The Diamondbacks (12-8) have won five of their past eight games while tying a franchise record with an 8-2 start at home. They lead the majors with 105 runs scored despite being shut down by the Los Angeles Dodgers' Brandon McCarthy in a 6-2 loss Sunday, when Paul Goldschmidt's two-run homer in the first inning was their only offense.
In terms of offense at home, Arizona leads the majors in batting average, slugging percentage and on-base percentage.
San Diego (8-12) has lost six of nine after falling 7-3 to the Miami Marlins on Sunday. However, the Padres have saved their best for the NL West leaders. Their series victories this season have come against the Colorado Rockies and Arizona.
"We have the type of guys who are able to link at-bats together," said Arizona third baseman Jake Lamb, who has reached base in 19 consecutive games after singling in the first inning Sunday.
"We are not selfish up there. We're not trying to pad our stats. If it's not me, it's the next guy. If it's not him, it's the guy after that. I think everyone knew, including the league, how good our offense… was last year minus injuries, and is going to be this year. We saw what happened with the pitching last year. Guys are hopefully going to have bounce-back years, and so far they are doing great."
Arizona received some sobering pitching news Sunday, when right-hander Shelby Miller was removed from the game due to right forearm tightness after facing three batters in the fifth inning. Miller, who beat San Diego while giving up one run in 7 1/3 innings last Tuesday, gave up two walks and a double in the fifth before being replaced Sunday.
Two of the starters who caused the D-backs so much trouble last week will pitch in the first two games of this series Monday and Tuesday.
Chacin, 2-2 with a 4.70 ERA, will be followed by left-hander Clayton Richard, who limited Arizona to one run in 6 2/3 innings of a 4-2 victory last Thursday.
Chacin has recovered nicely from the season opener, when he gave up nine runs in 3 1/3 innings to the Dodgers. He has posted a 1.37 ERA in three starts since then, and he gave up three hits in 6 2/3 innings of a 2-1 victory over San Francisco in his second start.
"I threw all my pitches," Chacin said after his first meeting against Greinke. "That's why I was able to go so deep in the game."
Chacin, who spent the majority of his career in Colorado before joining Arizona briefly in 2015, is 6-2 with a 2.74 ERA in 15 appearances, including 14 starts, against the Diamondbacks. He is 2-3 with a 2.83 ERA at Chase Field.
Greinke took the loss in a complete game last week when he gave up a homer to personal nemesis Erick Aybar in the eighth inning. Aybar is 12-for-33 (.364) with five doubles and three RBIs against Greinke. Only four players with 30 at-bats or more have a higher batting average against the three-time All-Star.
Greinke is 1-3 with a 3.28 ERA this season in four starts, having given up two runs or fewer in three of his four appearances. He is 8-2 with a 1.96 ERA in 17 career starts against the Padres.