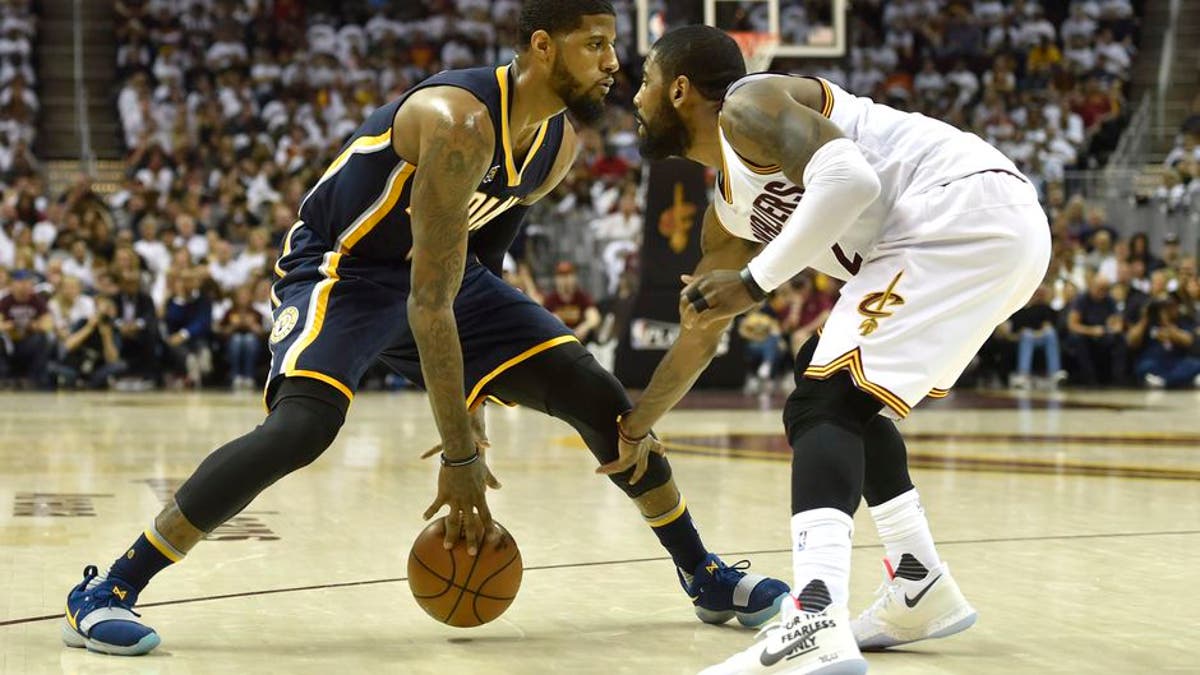 CLEVELAND (AP) -- Blown big leads. Defensive breakdowns. Bad shots. None of it means anything to LeBron James.
The only score that matters is 2-0.
Kyrie Irving scored 37 points while Kevin Love added 27 and James had 25 as the Cleveland Cavaliers avoided another fourth-quarter collapse in Game 2, beating the Indiana Pacers 117-111 on Monday night to take a 2-0 lead in the series.
After giving up a late lead and squeaking out the opener by just a point, James and Co. showed more intensity on defense, more swagger in general and held on to win their 10th straight first-round game over the past three seasons.
However, the defending champions, following a pattern that began late in the regular season, nearly gave away an 18-point lead in the fourth as the Pacers crawled within four in the final minute before Cleveland closed it out at the foul line.
Still, James came away encouraged. The Cavs are finding their groove.
"We're right there of what we know can become," James said. "We'll figure it out. I'd much rather have an 18-point lead than not have a lead at all. We're right there on turning the switch on what we really can become."
James added 10 rebounds and seven assists while winning his 19th straight game in the first round. He did have eight of Cleveland's 19 turnovers, miscues that allowed the Pacers to hang around.
Game 3 is Thursday night at Indianapolis.
Paul George scored 32 and Jeff Teague 23 for Indiana, which showed more fight, but now has a steep hill to climb to get back in the series. Cleveland is 12-0 when starting 2-0 in the postseason.
Teague injured his right wrist in the second half and coach Nate McMillan said the starting guard will undergo X-rays.
The Cavs vowed they would play better after their near-disaster in Game 1 and they mostly backed up their talk, delivering the kind of performance that was routine last season but rare in 2017.
In the third quarter, Cleveland took advantage of a mismatch underneath and pounded the ball inside to Love, who scored 10 straight and drew a charging foul on Lance Stephenson in a span of two minutes as the Cavs opened an 89-70 lead.
Irving ended the period by draining a 3-pointer over Stephenson and the All-Star made sure Indiana's antagonizing guard knew about it, yapping in his direction long after the horn sounded.
"I thought we lost our composure and got frantic out there," McMillan said of his team's third-quarter meltdown. "We lost our poise and wasn't calm during that third quarter. And that was big."
The Pacers regrouped, ripped off 13 straight points and were within 113-109 when George hit a 3-pointer with 20 seconds left.
Now, they're heading home in a hole they still believe they can climb from.
"We know what's at stake," C.J. Miles said. "We're going to go out there, keep trying to give them hell, keep competing and we'll get ourselves a win."
The other hitch for Cleveland was that starting guard J.R. Smith didn't play in the second half because of a left hamstring injury. Iman Shumpert, who sat out the opener, replaced Smith and played 20 solid minutes.