Cavaliers coast to 116-105 victory over Raptors in Game 1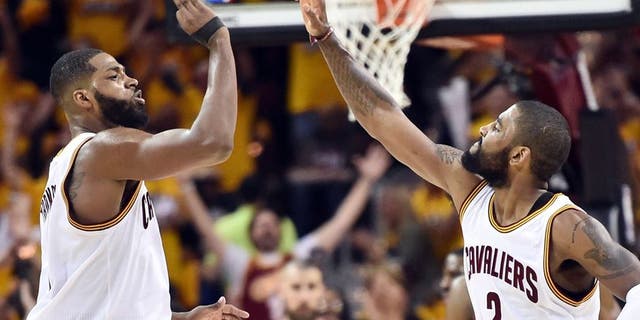 CLEVELAND (AP) -- LeBron James resisted drinking some beer. He downed the Raptors again instead.
James grabbed a bottle of beer on the sideline while scoring 35 points, Kyrie Irving added 24 and the Cleveland Cavaliers picked up where they left off following a long layoff and throttled Toronto 116-105 on Monday night in the opener of their Eastern Conference semifinal.
The Cavs hadn't played since April 23, when they completed a four-game sweep of Indiana. But the defending champions didn't show signs of rust and were well-prepared to face the revenge-seeking Raptors, who lost to Cleveland in last year's conference finals.
"That was the mystery coming into the game, how we would come out?" James said. "Obviously you prepare, you want to come out and play well, but you never know after an eight-day layoff. But the energy was phenomenal."
Toronto dropped to 1-12 in playoff openers, and the Raptors got blown out in the playoffs for the fourth straight time in Cleveland.
Game 2 is Wednesday night.
Kyle Lowry scored 20 and DeMar DeRozan 19 for the Raptors, who were within seven in the third quarter before James dropped a 3-pointer, converted a three-point play, drained another 3 and then considered washing down a brew -- a moment he said wasn't planned.
After drawing a foul on a missed layup, James playfully hopped toward the sideline, where a courtside server was passing by. The three-time champion reached and grabbed a beer bottle from her hand and brought it toward his lips before putting it back.
"I wasn't going to run over our beer lady," he said. "She had one and I grabbed it. I'm not a beer guy. If she had some red wine I would have probably taken a sip."
With trade acquisitions Serge Ibaka and P.J. Tucker, this Toronto team seemed better equipped to beat Cleveland than the one which lost in six games in last year's playoffs.
Trouble is, James only seems to be getting better and the Cavs are gaining speed.
"They were well-rested, flying around -- almost like a half a step quicker than we were all night," said Toronto coach Dwane Casey. "We've got to make adjustments as far as how we want to guard the paint and then get out to the 3. Offensively, get cleaner looks."
Before the game, Casey talked about the big comebacks that have been a theme in these playoffs. The Raptors blew a 25-point lead to Milwaukee in the first round, while the Cavs overcame a 25-point deficit and pulled off the biggest second-half rally in playoff history.
"There's no lead safe in the NBA," he said.
That's what happened to the Cavs in the first half as they built an 18-point lead only to watch the Raptors go on a 19-3 burst to pull within 41-39.
But Cleveland regrouped and, playing a turnover-free second quarter, led 62-48 at half.
James' legs looked fresh early on as he and Irving teamed up on a stunning alley-oop.
After he poked the ball away for a steal, James took off up the floor with Irving on the break. James pointed toward the backboard and Irving understood the message, bouncing a pass high off the glass that James grabbed and dunked with his left hand.
TIP-INS
Raptors: Have lost last four postseason games in Cleveland by an average 24.7 points. … G Norman Powell appeared to intentionally hit Kevin Love in the groin area, a play that could come under league review. Later, Powell was assessed a technical for jawing with Cavs G Dahntay Jones, who was ejected and will be fined. … Toronto's lone win in a playoff opener came in 2001.
Cavaliers: G/F J.R. Smith banged his surgically repaired right thumb in the first half. He said the team's medical staff told him there was no structural damage. … James needs 25 points to pass Kareem Abdul-Jabbar (5,762 points) for second place on the league's postseason scoring list, and two 3-pointers to join Ray Allen, Reggie Miller and Manu Ginobili as the only players to connect on 300 postseason 3s. … James has scored at least 30 in 88 playoff games, tying Kobe Bryant for second on the career list. Only Michael Jordan (109) has more.
IRVING'S DIMES
Irving had a playoff career-high 10 assists after getting just 12 in the entire series against Indiana. None was as memorable as his leave for James.
"It's just another play in the books for me and Bron," he said.
THE WHOLE TRUTH
James had some memorable playoff matchups with Paul Pierce, who played his last game on Sunday when the Los Angeles Clippers were eliminated by Utah.
The 39-year-old Pierce played 19 seasons, and as far as James is concerned, he should be on his way to basketball immortality.
"He put his mark on this game," James said. "Somebody I've always respected and competed against and pushed me in the Eastern Conference for quite a while. A champion. His numbers and what he was able to do out on the floor speaks for itself. So I would say his next stop is the Hall of Fame. He had a hell of a ride for sure."
UP NEXT
The Cavs are 16-1 at home against Eastern teams in the playoffs since 2015.