Carmelo Anthony says his season 'very likely' over after cameo in All-Star Game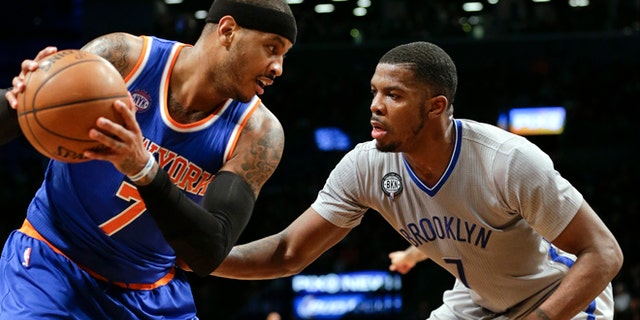 NEWYou can now listen to Fox News articles!
The New York Knicks' leading scorer, Carmelo Anthony, says he plans to play in Sunday's NBA All-Star Game at Madison Square Garden, "even if it's just a few minutes."
The forward, who hasn't played since aggravating a nagging knee injury during a game against the Chicago Bulls on Monday, told ESPN Radio on Thursday that he wanted to repay the fans who voted him an Eastern Conference starter.
"They voted me in for a reason, so at least I can show them that I appreciate that by just participating in the game."
More worrisome for Knicks fans, Anthony went on to say that it is "very likely" that he will be shut down for the remainder of the season after that.
"Now I've got to start thinking about the future," Anthony said, according to ESPN.com. "This season is this season. So I really want to just sit down with my team and sit down with the proper people to just kind of plan this thing out and see exactly what I have to do to get done and just to fix it."
Anthony has been experiencing soreness in his left knee for the bulk of this season, so the Knicks have been cautious with him, limiting his minutes on the floor and holding him out of games.
"I'm restricted, I'm not getting that power or that bounce," Anthony told ESPN Radio about playing through the knee soreness. "I think due to the lack of movement, the lack of explosiveness I have right now, I'm just trying to compensate and try to figure it out as it goes along."
The Knicks entered the All-Star break a dismal 10-43, but without Anthony their record has been an even more abysmal 0-13.
The forward may require knee surgery in the offseason. Last summer, the Knicks made a sizable investment in the eight-time All-Star, signing him to a five-year, $124 million contract.
Also during All-Star Game weekend, Anthony and movie director Spike Lee will serve as coaches in Friday's celebrity game. Anthony plans to be a laid-back one.
"All celebrities feel like they think they know how to play basketball. Some of them are pretty good, so just a matter of putting them out there and throwing the ball out there and telling them to go," Anthony said. "They're going to do their own thing anyway."
What about Lee, the Knicks' most passionate celebrity fan?
"Oh, Spike is going to be into it," Anthony said. "Spike'll be loud, Spike will be really coaching."
The Associated Press contributed to this report.
Like us on Facebook
Follow us on Twitter & Instagram