Carlos Condit contemplating retirement following loss at UFC 195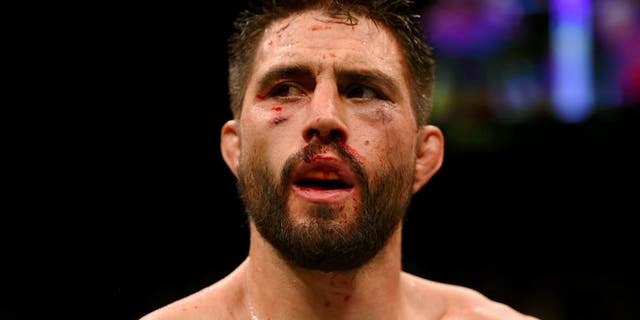 Following a close, split decision loss to Robbie Lawler at UFC 195, Carlos Condit is contemplating retirement and may have fought his last fight inside the Octagon.
Condit came up short after five, hard fought rounds despite out landing the champion by 84 significant strikes (176 to 92) through 25-minutes.
Condit says he left everything he had in the cage with Lawler tonight and that may be enough for him to call it a career.
"It's not really an emotional thing. I'm not dejected. I have to evaluate but there's a possibility that might be my last one. We'll see," Condit said at the UFC 195 post fight press conference on Saturday night.
"I've been at this for a long time, over 40 professional MMA and kickboxing (fights). I came up short tonight. Tonight was kind of a do-or-die moment for my career I feel like and I was all in. If I got that strap, I would keep fighting. If I didn't -- like I didn't -- I'd see if I can continue to do this."
Condit is a former interim welterweight champion but he's now gone 0-2 during his two title fights where he had the chance to secure the undisputed gold in the UFC.
Condit believes he did enough to win on Saturday night, but takes nothing away from Lawler's performance in victory.
Still, it's a heartbreaking defeat to come so close to obtaining the gold and then lose the fight thanks to one round on one judge's scorecard that ultimately made the difference in the result.
"I did (think I won). It was close though," Condit said. "It didn't go my way tonight. I left it all in there. I fought my ass off. So I'm disappointed, but I'm proud of my performance.
"Win or lose, I'm out here living my dream. I get to fight for a living and compete against the top guys in the world. I dig what I do. Sometimes you win, sometimes you lose unfortunately and tonight was not my night."
Condit obviously won't make his decision immediately and there's a chance the UFC could potentially offer him an automatic rematch, which could sway whether or not he continues to fight past Saturday night.
Condit has consistently been one of the best welterweight fighters in the UFC and if he calls it a career, there's no doubt the division would miss his exciting style and never-say-die attitude for years to come.