Cardinals trade down with Saints, take S Bucannon with 27th selection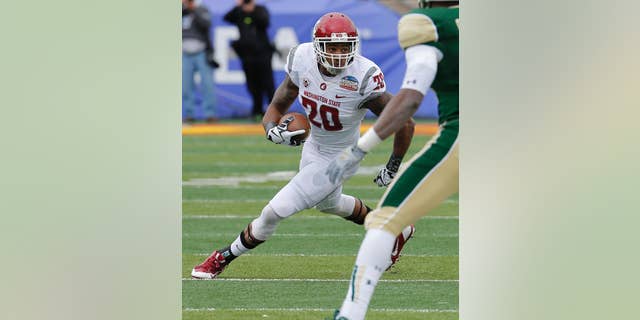 TEMPE, Ariz. – The Arizona Cardinals traded down seven spots in the NFL draft to select safety Deone Bucannon of Washington State with the 27th pick overall.
The Cardinals dealt their No. 20 pick to New Orleans, getting the Saints' first-round pick and their third-round choice, No. 91 overall.
The selection of the 6-foot-1, 211-pound Bucannon adds a needed component to a defense that was ranked sixth in the NFL last season but had difficulty defending the league's big tight ends. He joins second-year safety Tyrann Mathieu, who is coming back from knee surgery.
Bucannon had 15 interceptions as a four-year starter, six as a senior, at Washington State.
Arizona had only six picks before the draft-night trade, having sent its seventh-round selection to Oakland as part of the Carson Palmer trade.
Bucannon, a team captain from Fairfield, California, ranked fourth in career tackles at Washington State with 384 and second in solo tackles at 268.
"He's a guy that we felt fell a little bit under the radar," general manager Steve Keim said.
Keim called Bucannon a "headhunter" who plays with extreme passion.
"He's got pretty phenomenal physical talents," Keim said.
Keim said the Cardinals thought Bucannon would be there at No. 27 although it was a risk, but it also filled the team's desire to add a draft pick.
Bucannon could immediately fill the starting strong safety spot. He was one of 30 players the Cardinals brought in for a visit.