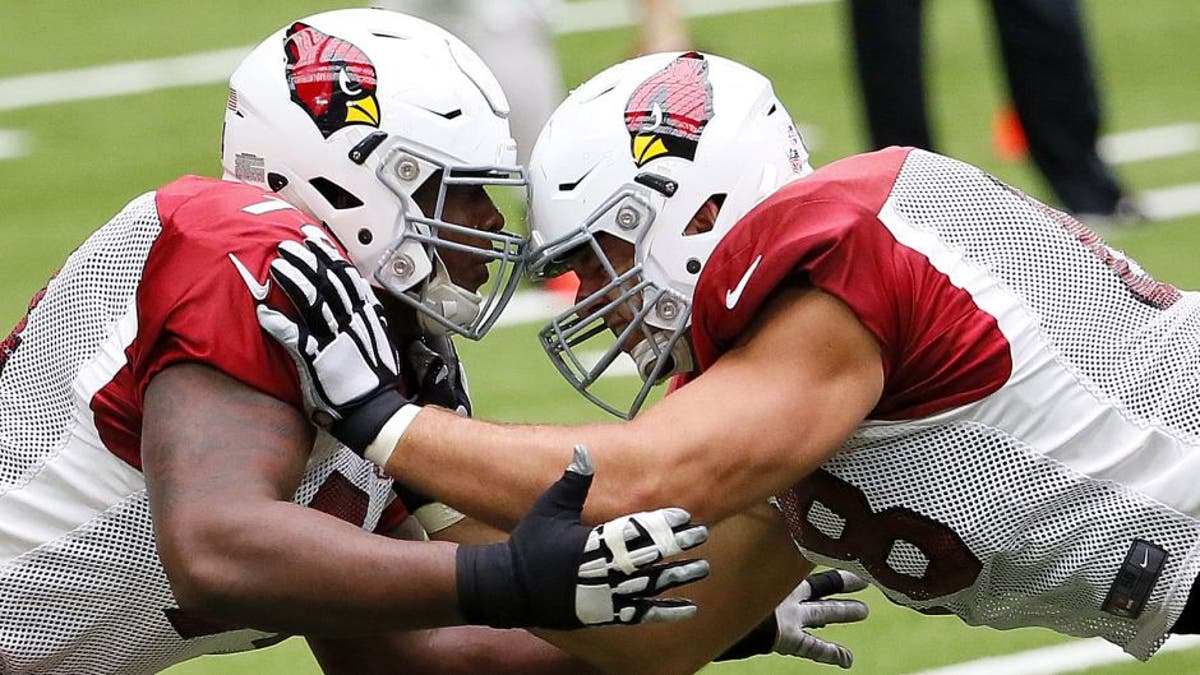 GLENDALE, Ariz. -- So what's with those smiles on the faces of Arizona Cardinals players?
Thursday was the last full day of training camp.
The team breaks camp following a Friday morning practice two days ahead of the third preseason game in Oakland. That's welcome news to just about everyone.
Camp started July 31 with a fitness test, with the first practice the following day. Four weeks and two preseason games later, this preliminary phase of the NFL season is about to close for the Cardinals.
"I'm just ready to sleep in my own bed," safety Tyrann Mathieu said. "I like going home after work."
The entire team and staff stay at a hotel adjacent to University of Phoenix Stadium, where the team holds camp practices, and the days are full. It's often a walk-through practice session at the stadium in the morning, a full practice in the afternoon, position and coaching staff meetings at the hotel at night.
The veterans on the team, coach Bruce Arians has noticed, are wary of how to get through training camp without burning out.
"The smart ones know how to pace themselves to get in shape," Arians said. "So they know when to go hard, when to slack off a little bit. But it's hard to slack off any more because with just one practice in pads, you're only going to get 30 reps. That'd be a heavy workload for a guy if he got 30 reps in one day. If you can't go hard for all of them, you're kind of cheating yourself to get in shape."
For Mathieu, training camp has been welcoming. He's had an overall good preseason after starting last year's camp on the physically unable to perform list with a knee injury.
"To come in healthy and to perform the way I've been performing and make plays and have my teammates feed off my energy, it's been a good one this year," Mathieu said. "Just trying to be consistent every day and make a play every day, and I think that fared out pretty well."
As camp comes to an end, the Cardinals will transition into regular-season mode. But there are still injuries to address and two roster cutdowns to get to the roster limit of 53 players, excluding the practice squad.
And one last practice before everyone can check out of the hotel and go home.
"We feel like we did everything we had to do, and just pray everything else goes well as far as roster-wise. To be able to go back home, that'll be a good feeling," wide receiver John Brown said.
NOTES: Arians said the team planned to administer fitness tests to several injured players Thursday in hopes of getting them in practice Friday, with the idea they'll play on Sunday night. CB Jerraud Powers, LB Sean Weatherspoon and RB Chris Johnson are all dealing with hamstring injuries but could see action pending test results. "Looking forward to seeing us play a little more extended time and hopefully get some continuity against a very quality opponent on the road," Arians said. ... DT Ed Stinson will need an injection for his injured foot, and Arians said he hopes to see Stinson play in the preseason finale Sept. 3 at Denver. ... The competition to win the punter job is still tight, with neither Drew Butler nor Dave Zastudil having an edge Arians said. ... Arians said he'd like to practice against another team in camp, but the Cardinals don't have the space on the field at University of Phoenix Stadium to allow a second team to do so. "We talked to two or three teams this year, and it just didn't work out," Arians said, adding the Cardinals would have to travel to another team's facilities to practice against different competition.