Cardinals look to get consecutive wins for first time this season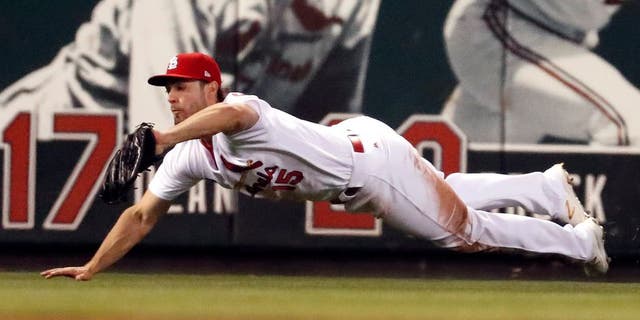 NEWYou can now listen to Fox News articles!
For one of the few times this season, St. Louis Cardinals manager Mike Matheny liked what he saw from his team Monday night.
He hopes he gets to see it again Tuesday night and beyond.
After the Cardinals lost nine of their first 12 games and got swept by the Yankees in New York over the weekend, Matheny watched his team get a good game out of starting pitcher Lance Lynn, timely hits and good defense that added up to a 2-1 win over the Pittsburgh Pirates.
Matheny will give the ball Tuesday night to Mike Leake, who will face the Pirates' Chad Kuhl.
Leake (1-1) has been the Cardinals' best starter this season, having allowed only one run in a 15 innings over his first two starts. He leads the National League with a 0.60 ERA.
Leake has won eight of his last 10 decisions against the Pirates dating to the 2012 season.
"It's the foundation," Matheny said Monday of the team's starting pitching. "It's going to set the tone for everything. Lance stepped up today, and we want Mike Leake to be the same guy, right down the line.
"We've seen what this starting staff can do. I know that's a lot to put on them, but certainly what they expect of themselves, too."
Kuhl (1-0, 2.38 ERA) also will be making his third start of the season and his third career start against the Cardinals. He gave up two runs in five innings in a start in St. Louis at the end of last season.
Kuhl will attempt to duplicate the performance, if not the final result, produced by Ivan Nova on Monday. Nova went the distance, allowing two runs, but wound up with a tough-luck defeat.
Pirates manager Clint Hurdle expects to get outfielder Gregory Polanco back in the lineup Tuesday night. Polanco did not start for the third consecutive game Monday but came through with an RBI pinch hit in the ninth inning that made it a one-run game. Polanco has been bothered by discomfort in his right groin.
"It was good to see him do that," Hurdle said. "That's what we were looking for."
The Cardinals won't know until Tuesday if starting first baseman Matt Carpenter will be able to play. He missed the Monday night game because of a swollen finger that he injured catching a ground ball Sunday.
One player who will be in the St. Louis lineup is center fielder Dexter Fowler, off to a .132 start after going 0 for 4 Monday night.
"It's encouraging to him that the work he's doing is getting him close," Matheny said. "He feels it, too. We are excited to get him in a good place in his mind. He's going to get it figured out."
The Cardinals will be trying to win consecutive games for the first time this season.
"It's not as simple as pushing one button to fix it or one simple thing to get it right," general manager John Mozeliak said Monday about the team's poor start. "I think this team still has better days ahead of it, but it clearly has to get out of this current lane we're in."