Cardinals host Brewers, both opening May with .500 records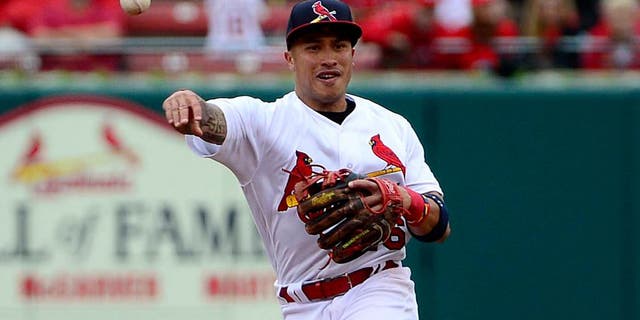 Considering how they started the season, getting to .500 before April turned into May was a good accomplishment for the St. Louis Cardinals.
It just didn't seem that way Sunday.
The Cardinals ended the month by blowing a 4-0 lead to the Cincinnati Reds and losing 5-4, which gave them a 12-12 record for the month.
"We've been playing well," St. Louis first baseman Matt Carpenter said. "Today's game just got away from us. That's really all there is to it."
The Cardinals face off with another .500 team Monday when they begin a four-game series against the Milwaukee Brewers at Busch Stadium.
The Brewers went a mediocre 13-13 last month, though the win total equaled their victory haul from the previous two Aprils combined. They dropped two of three at home to the Atlanta Braves over the weekend but won the finale 4-3 on Sunday.
"We're sitting at .500," manager Craig Counsell told the Milwaukee Journal Sentinel. "Obviously, offensively, we've been really good. I think we have to prevent runs better. That's probably the next step for us. But we know the season runs in valleys and cycles and different phases. We've had some good pitching performances in the first month. The guys in the bullpen have been really, really good.
"I think you earn your record, and I'll always say that. We're at .500 right now, and I think that's what we've earned."
St. Louis' loss Sunday was only the third in the past 12 games for the Cardinals, who started April with a 3-9 record.
In the series opener Monday night, Cardinals right-hander Michael Wacha (2-1, 2.55 ERA) will oppose Brewers right-hander Zach Davies (2-2, 6.57 ERA).
Wacha has thrown quality starts in each of his four outings this season. In his last appearance, he limited the Toronto Blue Jays to two runs over six innings in a no-decision Tuesday.
In his career against the Brewers, Wacha is 4-0 with a 4.09 ERA in seven games (six starts).
Davies also shined in his most recent start, throwing five shutout innings in a 9-1 victory over the Cincinnati Reds on Tuesday. He is 2-0 with a 2.67 ERA in four career starts vs. the Cardinals.
Davies will be looking to slow St. Louis second baseman Kolten Wong, who enters May with a six-game hitting streak that has raised his average to .258.
Wong has been a key to the Cardinals' recent success. He made several good defensive plays Sunday and had a leadoff single in the ninth but was left stranded at third base as the game ended.
Manager Mike Matheny likes what he is seeing out of Wong, who has been plagued by career-long inconsistency.
"He's put together some good at-bats," Matheny said. "Hitting in the eighth spot can be a challenge. Kolten is doing a real good job right now. He hasn't hit the type of hitter he can be. … He realizes the impact he can make defensively and on the bases. We can't say that about everybody."
The Brewers could be without an impact player Monday. Ryan Braun left the Sunday game due to a sore right arm.
Travis Shaw hopes to return for the Brewers after sitting out Sunday because of a bruised left hand. He was hurt when hit by a pitch Saturday.