Cardinals hope to keep chipping away at Brewers' overworked bullpen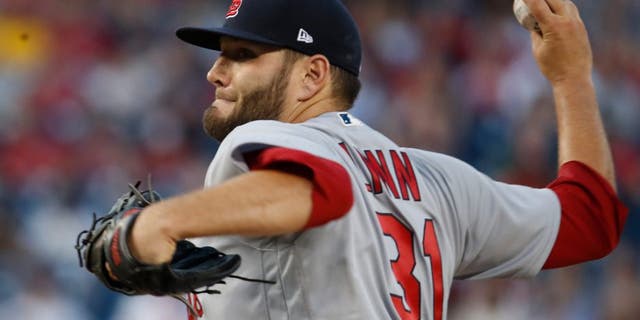 NEWYou can now listen to Fox News articles!
The St. Louis Cardinals' decisive 6-3 win over Milwaukee on Friday night exacerbated a problem that has been building for the Brewers -- a strain on their bullpen. They hope to go deep into that bullpen when they play the third game of their four-game set on Saturday night at Miller Park on FS1.
Milwaukee's bullpen has been putting in overtime this season. Itcovered five innings Friday night and ranks third in the National League with 67 2/3 innings of work.
It was part of the reason the team designated outfielder Kirk Nieuwenhuis for assignment Friday and used the open roster spot to add left-hander Brent Suter to the bullpen.
"We just have to have additional inning coverage in our bullpen in case something happens like a short start, an extra-inning game," Brewers manager Craig Counsell said before his team's loss Friday. "Even a standard game, we need arms to kind of rest some guys in the right situations and not have to pitch guys in the wrong situations."
Suter helped the cause, throwing three scoreless innings, allowing the Brewers to rest some of their more-used arms.
"The bullpen did a heck of a job," Counsell said. "Suter, three big innings, we needed that."
Chase Anderson, Milwaukee's starter Saturday, has done his part to ease the bullpen burden this season. He has gone five, seven and six innings, respectively, in his first three starts while allowing just three runs and 13 hits while striking out 16 in 18 innings of work.
Much of his success can be traced to a slight increase in velocity, which Anderson attributes to muscle mass added during offseason training.
"I can get down the hill with a little bit more weight," Anderson said. "As (teammate) Jimmy (Nelson) would say, 'More mass, more gas.'
"I wasn't looking to throw harder, I was looking to be stronger later in games."
Anderson has five career starts against the Cardinals, going 0-2 with a 2.42 ERA. Both of those decisions came last season, when he faced St. Louis four times and allowed five earned runs in 20 innings.
St. Louis will counter with right-hander Lance Lynn, who is trying to build off his strongest start of the season when he tossed seven scoreless innings against the Pirates and won for the first time this season.
"We lost the first two games I started this year, and I really hate losing, especially when I don't do my job," Lynn said. "It was time for me to get going and get back to doing what I'm capable of doing.
"You want to be known as the stopper. When you go through a rotation and see we're not pitching the way we're capable of or played the way we're capable of, you want to be the guy that kind of gets us going and stops it. Hopefully, that will bleed into the next start."
Lynn has faced Milwaukee 14 times and like most of the St. Louis pitching staff, he has had his way with the Brewers, going 8-2 with a 2.36 ERA. He has held Milwaukee to a run or less in nine of those outings and hasn't allowed a Brewers run in his last 13 2/3 innings against them.
The Cardinals should have center fielder Dexter Fowler back Saturday. He left Friday's game after five innings with a slight case of bursitis in his heel.
"My heel has been sore for a long time. It usually loosens up, but it didn't loosen up," Fowler said. "It's off and on for a while. Forever. It just kept getting worse."
Fowler is off to a slow start since signing a five-year, $82.5 million contract with St. Louis this past winter, batting .179 with two home runs and three RBIs.