Capitals happy for rest, but stress staying focused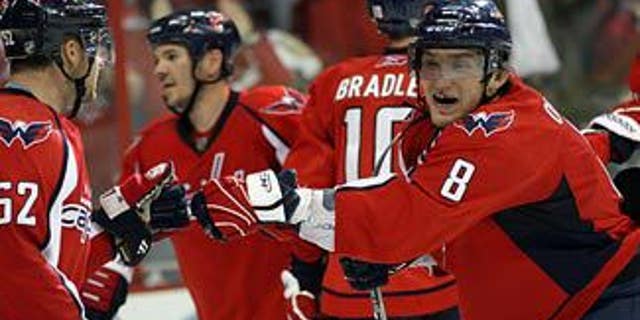 ARLINGTON, Va. -- Given how the past few seasons have ended, the Washington Capitals rightfully were a happy bunch after dispatching the New York Rangers in five games to advance to the second round of the 2011 Stanley Cup Playoffs and earn several days without a postseason contest to play.
Now the focus shifts forward, and the quest for this to be the most successful season in Bruce Boudreau's four-year tenure begins in earnest. Players often talk about surviving the unpredictable nature of the NHL's opening playoff round, but that alone won't make this a successful campaign for the Capitals.
"It is good, but on the other hand we have to stay focused," Matt Bradley said Monday after an optional practice at Kettler Capitals Iceplex. "We won in the first round -- big deal. We're happy we did that, but that was never our goal."
Added Boudreau: "There is plenty of work left. The story now will be, 'Well, they haven't made it through the second round since 1998 or something.' [The media] will think of something. Then the third round will be, 'Oh, this is uncharted waters.' [The media] will build up a storyline somehow."
Boudreau's club also defeated the Rangers in 2009 to advance to the second round, but was ousted in an epic seven-game battle with rival Pittsburgh. The Capitals won the first two games but lost four of the next five, and fatigue may have played a role.
This edition will have at least four days without a game and maybe as many as six or seven. Boudreau gave all of the players a day off Sunday and several of the team's top-minute guys stayed off the ice Monday as well.
"I think for any team, you want to win as quickly as you can because it is such a physical pounding in the playoffs," Boudreau said. "If you can get breaks to get healthy, I think it is a good thing."
Added John Carlson: "It was big for us to get that one over with and get a little rest period here. Tomorrow is going to be a huge work day for us. We've got to have that same mindset. No matter who we play, we know it is going to be a tough team. We have to prepare ourselves physically and mentally."
The rest could be particularly helpful for some of the injured Capitals. Dennis Wideman and Mike Knuble skated with the team Monday. Wideman has been out since late March with a hematoma and compartment syndrome in his leg and Knuble missed the final two games of the series against the Rangers with what is believed to be a hand or wrist injury.
Mike Green and Jason Arnott also left Game 5, but Arnott was able to return and Boudreau said Green was available if needed. Both did not practice Monday, but Boudreau said he expects both back Tuesday.
While this group of Capitals doesn't have any experience with resting between Stanley Cup Playoffs series, many of them did with Hershey in the American Hockey League. Boudreau led the Bears to the 2006 Calder Cup, and that team had layoffs of nine and 10 days between rounds.
Carlson, Karl Alzner and Michal Neuvirth were part of the 2009 and 2010 Calder Cup champions and last season Hershey had nearly a full month's worth of days off between series, including 13 during one layoff.
"This one won't be so bad because of how hard that series was and how tough it was on our bodies," Carlson said. "This is a big week for us to keep pushing forward and just keep working on the same things that make us successful."
Added Boudreau: "We've got it all planned out on what we're going to do. This was a good two days if guys needed two days off to have it, but we'll be working the rest of the week and we'll work harder once we know who we're playing."
Washington could know its opponent for the second round Tuesday night, but might also have to wait until Wednesday. If Buffalo wins Game 7 in Philadelphia on Tuesday, then the Sabres will be coming to Verizon Center to start Round 2. If the Flyers win, then it could still be the winner of the Pittsburgh-Tampa Bay series or Montreal.
Any of those four teams will have not had the time to rest the Capitals have had, but they also won't have to guard against being rusty at the start of Game 1.
"Now we have to be prepared, because whoever we play is going to have played a game within the past five days that we won't have, so if we're not ready we will definitely get caught," Bradley said. "I think it is a matter of us being focused and prepared and ready to play. There is benefits to having rest. Guys with injuries and guys who play a lot get time to rest, but when it comes to play, whenever it is we have to be ready."