Cam Newton explains why he played four games with a torn rotator cuff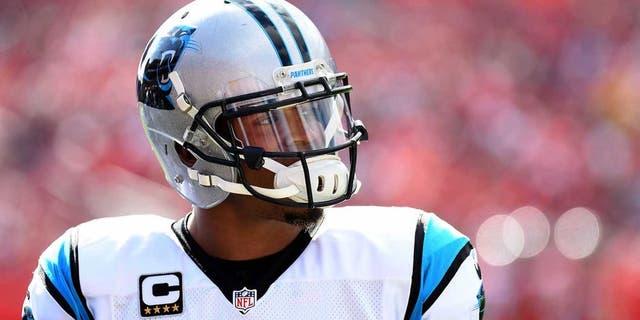 Cam Newton underwent surgery on his throwing shoulder last month a decision that raised some eyebrows given the timing of it all. The procedure was done to repair an injury suffered in Week 14 of last season, which made many people question A) why he was playing through it, and B) why the Panthers waited months for him to have it taken care of?
The team clarified that Newton waited to have the procedure done because he attempted to rehab and rest it first, but that didnt get the job done. And on Wednesday, Newton explained why he decided to play through the pain in the first place.
Despite questioning whether it was worth it, Newton said he was trying to set a good standard for his teammates.
"But at the end of the day, I felt as if there was another thing that was achieved," Newton said, via the team's official site."I wear the 'C' patch on my jersey with great pride, and I feel as if it comes around again, would I reconsider it? Yeah, but also knowing those guys that I'm going to give every single thing that I have to give for this game, for the fans, for my teammates, especially."
Streeter Lecka
Newton, a captain of the team, tried to show that he was a leader and someone players could look up to. He certainly accomplished that, but did so at the expense of his own health.
A partially torn rotator cuff is not a minor injury, as evidenced by his four-month recovery timetable, which makes Newtons decision to play through it somewhat surprising especially with the Panthers out of the playoff hunt.
"Was it smart? People may say it wasn't, but at the end of the day, I think the bigger picture was I'm one of the leaders on this team," Newton said. "I just want to set a good standard that, listen, the team comes first and I'm just going to put myself in position to try to lead this team as much as possible."
Newton cant resume throwing for another few months as his timetable to do so was pegged at 16 weeks following the surgery. Hes just three weeks removed from the procedure, which means he probably wont begin to throw until late-June at the earliest.
The Panthers are expecting Newton to be back for training camp in July, which would obviously be an ideal scenario for both him and the team.