Bullpen helps Indians edge Blue Jays, take 2-0 ALCS lead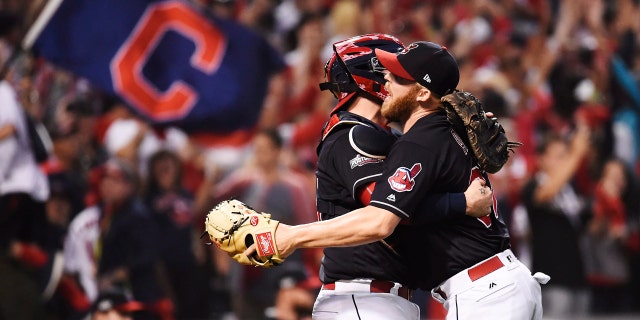 CLEVELAND – They don't have a true superstar, an embarrassment of All-Stars or a celebrity following. That's the NBA champion Cavaliers, who play next door.
The Indians, though, have depth, chemistry, one of baseball's best managers and quite possibly the most dominant bullpen weapon in the game.
Andrew Miller has Cleveland two wins from the World Series — and Toronto batters flailing.
Josh Tomlin baffled Blue Jays batters for nearly six innings and Miller, acquired just ahead of the trade deadline for exactly these pressure-packed October moments, blew them away as Cleveland edged Toronto 2-1 on Saturday to take 2-0 lead in the AL Championship Series.
Carlos Santana homered off 20-game winner J.A. Happ, and Francisco Lindor had an RBI single for the Indians. They won the second straight tense game in this series and have won five straight postseason games for the first time in their 116-year history.
An afterthought in August, Tomlin has emerged as an unlikely October star for the Indians. He allowed one run and three hits in 5 2/3 innings for his second win of the postseason — he won the Game 3 Division Series clincher in Boston — before Cleveland manager Terry Francona handed the ball to the magnificent Miller, who is making the Blue Jays look like Little Leaguers.
The lanky left-hander struck out the side in the seventh, two more in the eighth and has 10 strikeouts in 3 2/3 innings in the series. He has not allowed a run in 16 career postseason innings.
"He's one of the best I've ever seen," said closer Cody Allen , who worked the ninth to close the three-hitter for his second straight save. "He goes out there for two innings, shuts them down and gets a lot of swings and misses. Whenever you get to come in behind a guy like that, you're in a pretty good spot."
So are the Indians, who had never been up 2-0 in four previous ALCS trips.
Miller has been the difference so far, blowing through the Blue Jays. Before getting a groundout in the eighth, he struck out seven straight over two games.
"There's a reason we gave up what we did for him," said Francona, referring to the four top prospects the Indians sent to the Yankees in July. "We thought that he could be a guy that we could leverage in situations like we have. And it would make our bullpen that much better and give us a chance to keep playing. And that's exactly what he's doing."
After bludgeoning Texas in the ALDS by hitting eight homers and scoring 22 runs, Toronto has one run and 10 hits — eight singles and a pair of doubles — in two games against the Indians, dropping to 0-2 in the ALCS for the second straight year.
Bautista is 0 for 6 in the series with five strikeouts and in a 0-for-14 postseason tailspin. The only bat flipping Joey Bats has done is back into the rack.
"We didn't get destroyed or anything in these two games, but we've got our work cut out for us," Jays catcher Russell Martin said. "History shows we can hit the ball. We're going to have the opportunity to do that at home."
The series heads north to Toronto's raucous Rogers Centre for Game 3 on Monday, with Cleveland's Trevor Bauer slated to face Marcus Stroman.
Tomlin originally was scheduled to pitch Game 3, but he was pushed up after Bauer cut his right pinkie while repairing one of the drones he enjoys flying as a hobby. The 31-year-old Tomlin pitched himself out of the rotation by going 0-5 with a 11.48 ERA in August, but injuries to Carlos Carrasco and Danny Salazar gave him another chance and he's made the most of it.
Tomlin relied on his curveball to keep the Blue Jays guessing.
"I needed to establish I could throw it for a strike early on, and then it was a pretty good pitch," he said.
Miller's slider buckled the Blue Jays and delighted his teammates.
"I don't even know how to say it," Indians second baseman Jason Kipnis said. "It's fun to watch. I've faced that before, which is not fun to watch."