Buffalo Bobby: Now a head coach, Hurley set to mesh past experiences with present challenges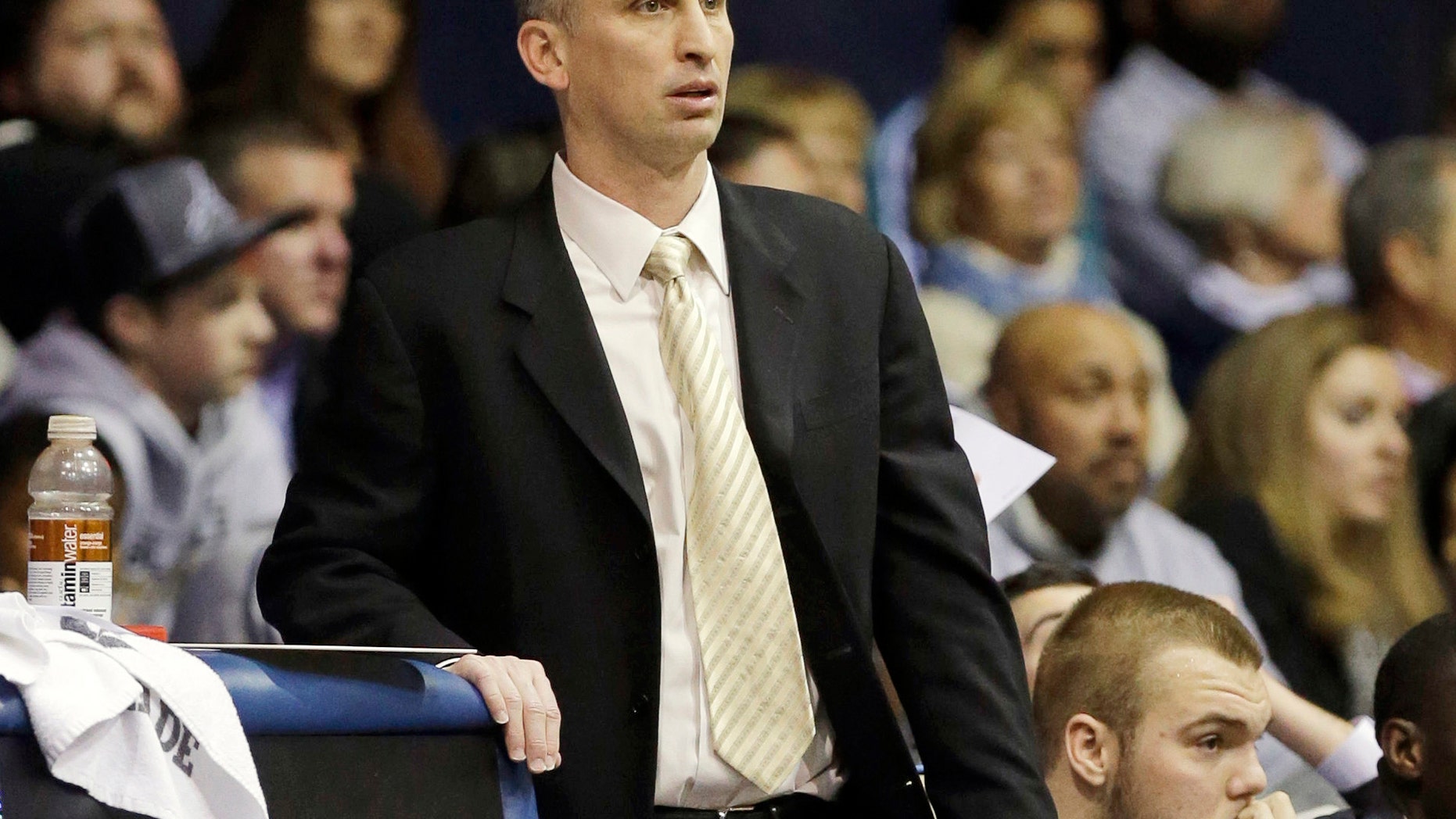 AMHERST, N.Y. – As Bobby Hurley rocked back in his chair, he cracks about the gray flecks of hair exposed by the sunlight shining through the window.
"Yeah," he said with a laugh in his office overlooking the University at Buffalo campus, "that's my dad's fault."
Hurley was referring to his silver-haired, fiery father, Bob, who established the family name in Jersey City, N.J. Bob has spent the past 40 years building and maintaining St. Anthony's High as a perennial powerhouse, and along the way — though his sons had something to do with it, too — he established the Hurleys as the first family of basketball in the Garden State.
What's not lost on Bobby, as he prepares to carry on the family's coaching tradition, is that his passion for basketball isn't the only thing he inherited.
"The genetics aren't great," Hurley said. "My body feels a lot younger."
That goes, too, for his rejuvenated spirit.
At 42, Hurley is opening a new chapter in a sport that continues to define him, first as one of college basketball's best point guards, and now as rookie coach of the Mid-American Conference Buffalo Bulls.
"I don't have a future as a player anymore," Hurley said. "Being a head coach gives me a chance to work with guys, help them get better, participate in competing and being part of a team to keep me young."
It's a long-awaited third act some 13 years in the making for the former NBA first-round draft pick who made his biggest impact at Duke. That's where he served as Mike Krzyzewski's on-court general in leading the Blue Devils to consecutive national championships in 1991 and '92.
Buffalo might not be Chapel Hill, N.C., but it's certainly a step up from the modest settings of Staten Island's Wagner College. That's where Hurley returned to basketball in 2010 as an assistant under his brother, Dan.
In Buffalo, Hurley takes over a program that has barely registered nationally since making the jump to Division I in 1999. He replaces Reggie Witherspoon, who went 196-228 over 13-plus years, during which the Bulls made four postseason appearances — an NIT, a CBI and two CITs — but fell short of the NCAA tournament.
Though Hurley's hiring was an attention-grabber, he prefers the focus be placed on a team featuring three returning senior starters, including forward Javon McCrea, a conference preseason MVP candidate.
"I had my turn," he said. "I'm trying not to make it about me as much as possible."
What Hurley will acknowledge is how this opportunity completes a career arc that had him quitting basketball entirely out of frustration after his playing days were cut far short of their potential by a near-fatal car accident.
"I don't know if I've been happier in the last 10 years," Hurley said. "It's given me purpose."
It will be 20 years next month since the life-altering crash occurred in Sacramento, Calif., during Hurley's rookie season with the Kings. The collision was so violent that Hurley, who was not wearing a seatbelt, was thrown from his truck. He broke his ribs and shoulder, sustained a compressions fracture of his lower back, tore a tendon his right knee and his lung collapsed.
He returned to play the following season, and struggled through another four seasons before retiring.
Hurley eventually moved to Florida to try his hand at horse racing. He labeled that calling "a bridge," something that could fuel his competitive desire outside of basketball, and without the constant reminders of the player he once was.
"I felt burned out," Hurley said. "I still loved basketball, but I felt I needed to get away from it for a bit."
Dan Hurley understood why his brother left the game, without doubting Bobby would one day return.
That was apparent every time the high school teams Dan coached traveled through Florida and Bobby would show up to provide players tips.
"We never talked a lot a lot about the horses," Dan Hurley recalled. "I tried to go to the races with him to support him, but it seemed to me like he was a basketball guy that was waiting for the right time."
The time came when Dan took over at Wagner, and offered Bobby a job. They spent two years there, and another year at Rhode Island before Bobby left for Buffalo.
Dan has the utmost confidence his brother is ready. He's a Hurley, after all.
"I think on some level, we're kind of oblivious to the pressure because we've been dealing with competition — winning and losing — since we were babies," said Dan, who like Bobby, starred for the Friars who were coached by Dad. "It's become second nature."
Bobby Hurley proved that on the court, where he established his reputation for staying cool under pressure. The same should go for coaching.
"When I stepped out on the court, I never looked at it like pressure," Hurley said. "People targeted me a lot. They underestimated me a lot. And I used that to my advantage."
His rich history is evident in the pictures hanging on the walls of what is an otherwise sparsely decorated office.
There's one of Hurley and NBA Commissioner David Stern on draft day. There are pictures of him with Michael Jordan and Magic Johnson. And there's a black-and-white print of him hugging Krzyzewski upon leaving the court in Hurley's final home game.
Hurley pointed to one where he's driving past a fallen Indiana player in the 1992 NCAA tournament semifinal, a game he scored 26 points in an 81-78 victory.
"For the kids and recruits, I like to say I made the guy fall off the dribble," he said. "I really didn't do that, but the picture gives the appearance of it."
There's nothing deceiving about Hurley some 21 years later in having come to the realization he's back where he belongs.
"Even though I was doing other things for a while, I felt like a part of me was missing because the game had always been there my whole life," Hurley said. "It's like I need it.
"I still need to be around the game."