Buccaneers know they need to get Mike Evans more involved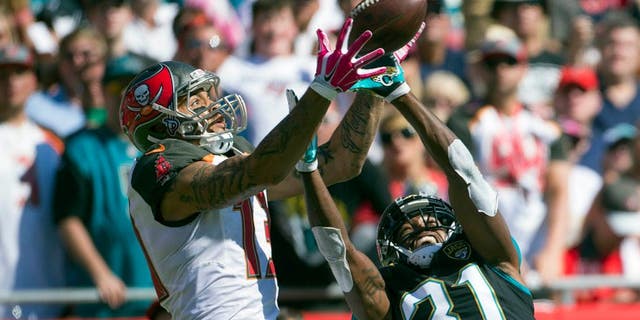 NEWYou can now listen to Fox News articles!
TAMPA, Fla. (AP) -- The Tampa Bay Buccaneers are eager to get Mike Evans more involved in their offense.
The second-year receiver is off to a relatively quiet start following an outstanding rookie season. Teammates and coaches say there's no cause for alarm.
Evans sat out most of the preseason with a sore hamstring that also sidelined him for the regular-season opener. He has 13 receptions for 174 yards and no touchdowns entering Sunday's game at Washington, with most of that production coming during a seven-catch, 101-yard outing against Houston in Week 3.
"He's fine. ... We just need to get him started," offensive coordinator Dirk Koetter said, noting that despite what Evans accomplished a year ago, when he topped 1,000 yards receiving and tied a franchise record with 12 TD receptions, the Bucs have plenty of playmakers capable of helping rookie quarterback Jameis Winston.
"When you have multiple guys that need touches, it doesn't always work out perfect," Koetter added. "We have to do what we have to do to try to win games. ... I'm sure Mike is a little bit frustrated. ... We've been down this road before with other guys. We've just got to get him started. There is nothing he is doing wrong. He's playing hard, he's practicing hard."
Actually, the slow start isn't new for Evans, whose rookie year didn't really take off until a three-week stretch in November in which he became the youngest player in NFL history to have three consecutive games with at least seven catches, 100-plus yards receiving and a touchdown.
The seventh overall pick in the 2014 draft had 21 receptions for 458 yards and five TDs during the surge, capped by a seven-catch, 209-yard, two-TD day at Washington, where Tampa Bay (2-3) plays again Sunday.
"It was a great game for me. It showed my ability to be able to take over games and things like that. ... But they're a different defense this year, with a lot of guys injured. They play different schemes and things like that. It will be a challenge for us, but it's nothing we can't handle," Evans said.
Evans said he's fully recovered from the hamstring problem that sidelined him for a month following the first preseason game. After playing a predetermined number of snaps and not having a catch in his season debut at New Orleans in Week 2, the 6-foot-5, 231-pound receiver was targeted 17 times and had seven catches for 101 yards during a 10-point loss to the Texans.
It's been tougher to get him the ball to him the past two games, when he's had a combined six receptions for 73 yards. The 22-year-old Evans stressed his hamstring has not been an issue.
Evans also shrugged off questions whether the injury prevented him from developing chemistry with Winston, the No. 1 pick in this year's draft, during training camp.
"If the ball comes our way, it doesn't matter how many times you're targeted, we just have to make the play when the ball comes," Evans said.
Vincent Jackson, who leads the Bucs with 20 receptions for 306 yards and two TDs, and Evans teamed a year ago to become the first pair of Tampa Bay players to amass 1,000 yards receiving in the same season.
Reserve running back Charles Sims is second with 14 catches, two for TDs, followed by Evans.
Winston said it's a matter of time before a patient Evans gets a chance to shine more.
"That's the thing about this team. Everyone, they do their jobs. ... And he has been doing that," Winston said. "He's not going to sit there and complain because at any given time, one play can be -- boom -- touchdown. It takes one play to make a big play, and for him to get a spark."