Bronco Mendenhall's sendoff was warm, but a little odd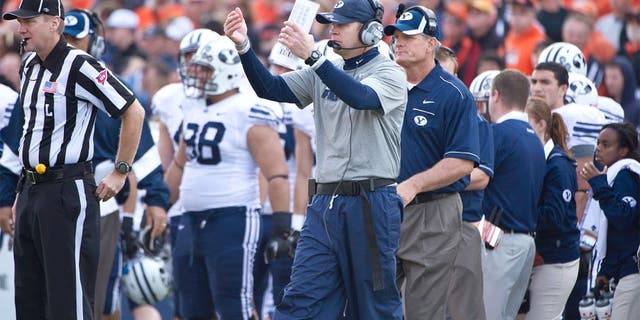 NEWYou can now listen to Fox News articles!
Eleven years have come and gone since Bronco Mendenhall first became the head coach at BYU, and he's had plenty of success in Provo. So when Mendenhall shocked the college football world by taking the Virginia head coaching job last week, it was going to be interesting to see how BYU acted next.
Usually, a program wishes a coach leaving well and leaves it at that. BYU decided to have a press-conference in Mendenhall's honor.
"I've had a chance to talk to (UVA athletic director) Craig Littlepage," athletic director Tom Holmoe said, "and I told him, 'You've got a great guy, and he's going to change your football team in a great way.' "
It's nice to take the high road, but did something feel a little off about the Mendenhall presser? Doug Robinson at the Deseret Morning News explains.