Brock Lesnar granted exemption from early drug testing ahead of UFC 200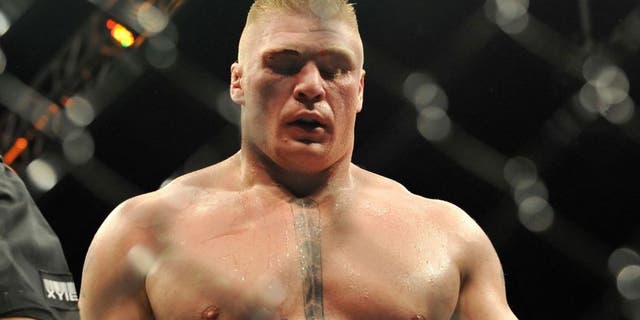 NEWYou can now listen to Fox News articles!
Brock Lesnar's return to fight at UFC 200 will enter him into the pool of fighters tested by the United States Anti-Doping Agency (USADA), but it did not require him to undergo four months of testing prior to his fight as stipulated in the UFC's drug testing code.
The UFC's anti-doping policy in coordination with USADA states that a fighter returning from retirement is required to submit to drug testing for four months prior to a bout:
"An athlete who gives notice of retirement to UFC or has otherwise ceased to have a contractual relationship with UFC may not resume competing in UFC bouts until he/she has given UFC written notice of his/her intent to resume competing and had made him/herself available for testing for a period of four months before returning to competition."
Clearly, Lesnar didn't submit to that testing process considering he just signed his contract to fight Mark Hunt at UFC 200 this past weekend
There is a clause in the UFC anti-doping policy that does allow for Lesnar to still fight, however, entering into the drug testing pool as of this week after his contract was signed:
"UFC may grant an exemption to the four-month written notice rule in exceptional circumstances or where the strict application of that rule would be manifestly unfair to an athlete."
According to UFC officials in a statement obtained by Yahoo Sports, Lesnar was deemed exempt based on his contractual situation due to his current employment with WWE and needing that organization's permission to return to fighting:
"While conversations with the heavyweight have been ongoing for some time, Lesnar required permission from WWE to compete in UFC 200 and only agreed to terms and signed a bout agreement last Friday," UFC officials said. "He was therefore unable to officially start the Anti-Doping Policy process any earlier.
"UFC, however, did notify Lesnar in the early stages of discussions that if he were to sign with the UFC, he would be subject to all of the anti-doping rules. Lesnar and his management have now been formally educated by USADA on the policy, procedures and expectations."
So Lesnar will be subject to drug testing between now and his fight with Hunt on July 9 just like every other fighter on the roster, but he didn't have to submit additional testing before signing with the UFC again.
For his part, Lesnar's opponent did say when speaking to FOX Sports earlier this week that he hoped the former heavyweight champion would be tested like all the other athletes.
"They said (I was fighting) Brock Lesnar and I said make sure he gets tested, that's all I was thinking about," Hunt said.
According to the USADA website, the athlete database for testing is updated once a week with the last results posted on June 1. Lesnar was eligible for testing as of June 6, so if he's been tested this week his results will show in the system as of the next update.
Lesnar faces Hunt in the co-main event for UFC 200 on July 9 at the T-Mobile Arena in Las Vegas.