Braves aim for fences in inking top pick Kyle Wright to record deal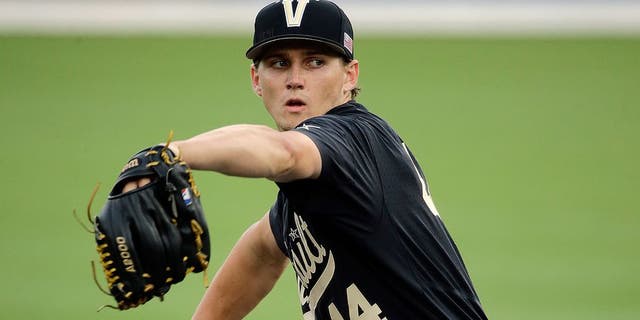 NEWYou can now listen to Fox News articles!
ATLANTA Fresh off placing his signature on the largest financial windfall of baseballs modern draft era, Kyle Wright and his family made the rounds at SunTrust Park, his presumed future home, on Friday afternoon.
Its very comforting, said Wright, the No. 5 selection in the 2017 draft, of how quickly the signing process unfolded. Just to know that Im here and that Im a part of this great organization is really important to me. I feel like its going to allow me to be successful. Dont really have to deal with anything going back and forth. Just to know that were on the same page the whole time is something that means a lot to me because it means that (the Braves) were very supportive of me. They always had my back about the whole thing.
Just to be able to get it done so quick is really special.
Vanderbilt's star right-handersigned a record $7 million signing bonus, the largestdealhanded downsince MLB altered its signing process under the current collective bargaining agreement and the most money Atlanta has ever invested in a single draft pick. The only pitchers to ever receive a higher signing bonus in any era were former No. 1 picks Gerrit Cole and Stephen Strasburg.
We felt he was the best player in the draft, Braves general manager John Coppolella said. With us picking (at No.) 5, weve got a lot of depth in our system, to add this type of impact player we felt it was worth that price. We worked hard with his agents trying to find the right price. We wanted to get him signed quickly, get him out playing, get him on the fast track to Atlanta.
The selection and subsequent financial details represent an alteration in draft philosophy for Atlanta.
Following two years of stocking up on high-school arms in the draft and targeting top pitching prospects across baseball's trade-happy landscape, explicitly placing faith in their development program, Wright is the advanced talent that enters the system prepackaged for a quick rise to the majors. Though he is expected to start his Braves career in the Gulf Coast League before moving to Rome for A-ball competition, the 6-foot-4 righty with three plus pitchesis widely projected to be one of the fastest movers in the 2017 class.
This is also the first top pick the Braves have invested so heavily in. Over the first five years of the current system, Atlanta rarely went above slot for top picks Kolby Allard slightly exceeded his slot in 2015 and, especially last season, elected to spread its resources across multiple selections. If the 2016strategy aimed to hoard as many lottery tickets as possible, the 2017 version simply snatched aGolden Ticket to Willy Wonka's Starter Factory.
In Wright alone, the Braves are spending 70 percent of their $9.9 million pool allotment.
Wright follows in the footsteps of past college stars and MLB standouts to ink lucrative signing bonuses under MLBs current draftee system essentially, teams must sign draft picks selected in the first 10 rounds with their allotted pool money and risk losing future picks if they spend in excess of 5 percent of that cap surpassing the No. 2 pick in 2013 (Cubs star Kris Bryant, $6.7 million) and the No. 3 pick in 2014 (White Sox starter Carlos Rodon, $6.6 million). This is notable company.
Elite college stars are paying immediate dividends for MLB franchises, pushingWright, Louisville star Brendan McKay and the likes of Pavin Smith, Adam Haseley and J.B. Bukauskas into an interesting spotlight. Take the aforementioned examples: Bryant played all of 181 minor-league games before exploding onto the scene as one of baseballs best hitters and becoming a National League MVP for a World Series champ; Rodon, meanwhile, has battled injuries but hes been worth 4.7 wins above replacement with a 3.95 fielding-independent pitching (per FanGraphs) through the first 300 innings of his career.
College bats typically move faster up through minor-league systems look no further than the 2015 class of top-10 picks Dansby Swanson, Alex Bregman, Andrew Benintendi and Ian Happ but this is the world of expectation Wright is walking into.
(It should be noted here that anything close tothe early-career production of these recent draft picks more than accounts for Wrights signing bonus, considering the deal comes equipped with six years of major-league club control. For context, Wrights bonus would have purchased just one season of Boone Logan in free agency this winter.)
Atlantas front office firmly believes he is up to that task.
The next step for Wright is an introduction to pro ball though a cautious one.
As scouting director Brian Bridges pointed out, Wright, equipped with his background in the competitive Southeastern Conference, is capable of getting out hitters in the high minors right now, but hes already handled a college seasons workload this spring.
The one thing we all have to keep in mind he has (pitched) 103 innings (in 2017), Bridges said. We want to take care of Kyle. We want to make sure we put him in the best situation to succeed the rest of the year and develop along the way and getting used to pitching every fifth day.