Brandon Marshall receives humanitarian award after day in court on assault case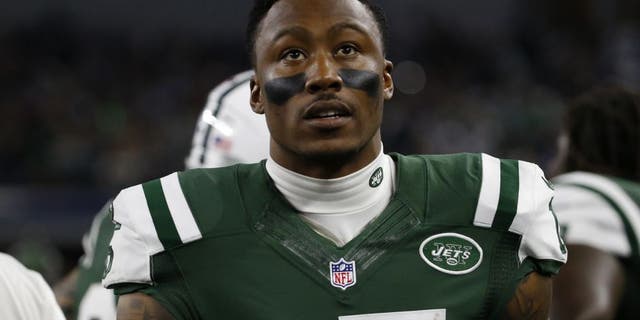 There are days to remember and those to forget. New York Jets wide receiver had both on Tuesday.
The veteran Pro Bowler spent part of his day in a New York courtroom, where he was a defendant in a case brought by a woman who accused him of punching her outside a New York City night club four years ago.
Hours later, Marshall, 32, was receiving the Ernie Accorsi Humanitarian Award for his efforts to raise awareness about mental health issues.
"To be honest, I really don't care about accolades and awards," Marshall told NJ.com while declining comment on the court case. "But I would say that affirmation is vital for all of us. And it gives me fuel to continue to move forward because the work that we do is hard; not everyone makes it."
Jets head coach Todd Bowles, who was an assistant coach in Miami while Marshall played for the dolphins, praised Marshall at Tuesday night's event.
"To watch him grow as a young man, and for him to have a disorder, and then for him not only to help himself, but decide to help other people and their plight, and spend his own money and time doing that, I think that's outstanding," Bowles told NJ.com. "You can't help but marvel at what he's doing."