Braker, Achonwa key No. 2 Notre Dame women to 69-49 win over Seton Hall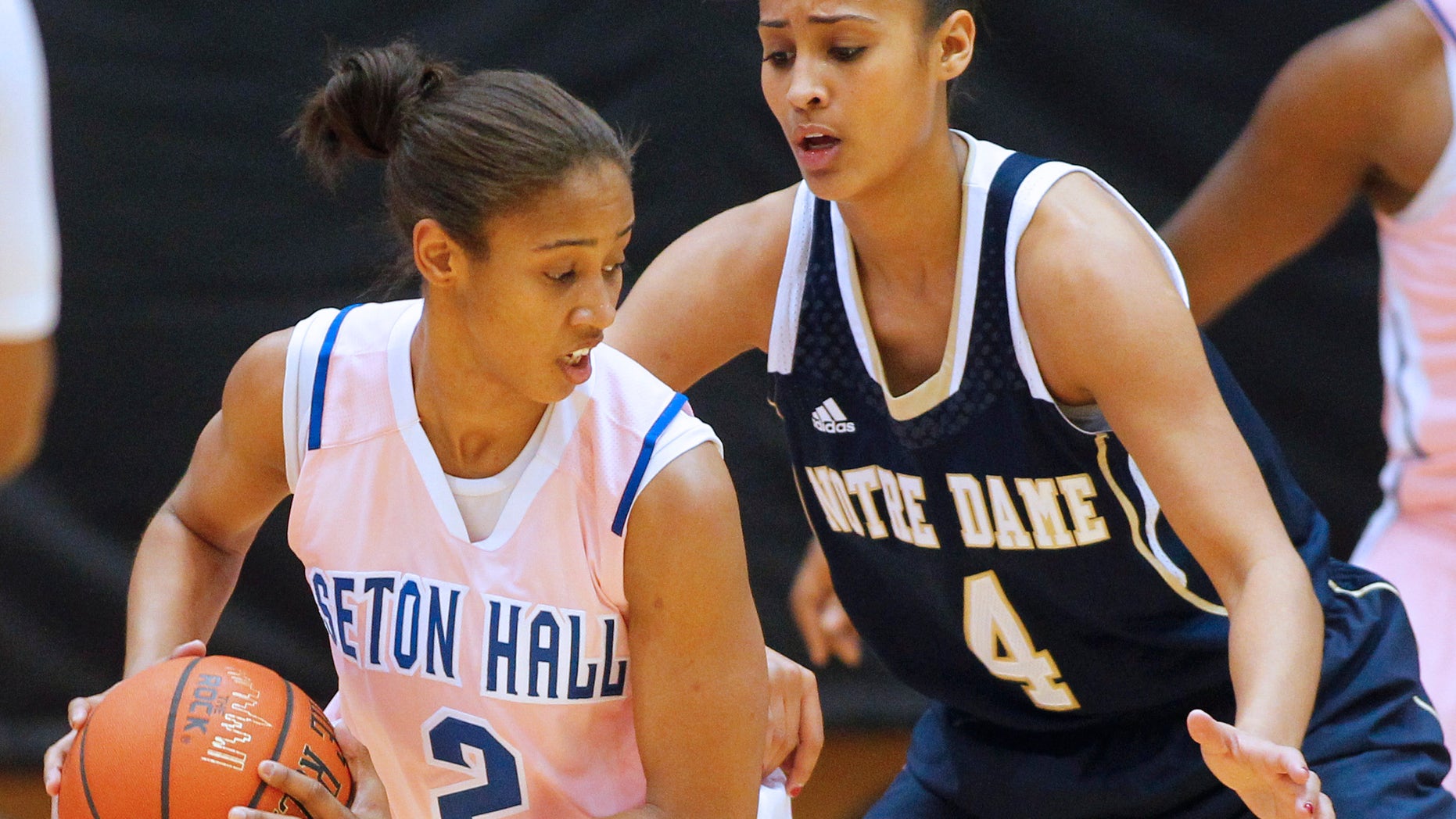 SOUTH ORANGE, N.J. – Anne Donovan is set to head back to the WNBA after Seton Hall's season is over. She'll leave knowing that the program is in better shape than when she took over three seasons ago.
"We're a different team and a program that's taken the next step," Donovan said after her team lost 69-49 to No. 2 Notre Dame on Saturday. "They are a confident group now. It shows progress of the program and with that comes a change of mentality with our kids. We compete hard and believe we can stay in games like this and that's a key for us."
Donovan came to the school with high hopes of turning it around after the Pirates went through a few dismal few years, including a 9-21 mark the year before she came.
"It's definitely grown," senior Brittany Morris said. "When she first came the program was not as competitive, there was not as much drive. She pushed us to be the best we can be on and off the court."
Morris scored 16 points to lead Seton Hall (8-15, 3-7 Big East) in the loss Saturday.
"I set goals to turn this program around when I took over and at the end of the day I have to be satisfied it's in much better shape than when I took over," said Donovan, who will take over the Connecticut Sun job. "We didn't accomplish all I wanted to."
Seton Hall only trailed by eight early in the second half before Ariel Braker keyed a 12-2 run to put the game away. Braker matched her career high with 15 points and Natalie Achonwa added 11 points and nine rebounds to help Notre Dame win its 17th straight game.
"Coming out of halftime we needed to come out with defensive intensity," said Braker, who made five of her six shots and all five of her free throws. "When our defense is playing well it really sparks our offense and that's what happened. We got a couple of easy shots. Skylar (Diggins) found me on a couple easy baskets."
Braker has been struggling with knee issues all season since having offseason surgery on her left knee.
"She played really well and had a great practice, her knee felt good," Notre Dame coach Muffet McGraw said. "We looked for her. I was really pleased with her game."
Even with the 20-point loss, it was a much better effort for Seton Hall then the last few meetings with the Irish. Last season the Pirates trailed 49-16 at the half and never got back in the game, losing 74-36.
"They definitely are better than last year," McGraw said.
This time, hot shooting kept them in it for 20 minutes. The Irish held a 35-28 lead at the half after scoring 17 of the first 21 points of the game. Seton Hall hit five 3s in the first half to keep it close.
Notre Dame (22-1, 10-0) scored four quick points to start the second half to boost its lead back to double figures, but Seton Hall closed to 41-33 with five straight points by Morris.
That's as close as they'd get as Notre Dame scored 12 of the next 14 points to put the game away, including six by Braker.
"We were encouraged at the half," said Brittany Morris, who scored 16 points to lead Seton Hall. "We had a little breakdown in the second half and a team like that you can't break down when they go on a run."
The Irish return home to face No. 11 Louisville on Monday night.
The win was the 117th for the senior class of Kaila Turner and Diggins matching them with the group that graduated last year for the most in school history. Turner was wearing a sling on her left shoulder and didn't play. She injured the elbow against Villanova.
"She tore a tendon and we hope to get her back for the Big East tournament," McGraw said.
Despite the winter storm that hit the area, there were 2,600 fans at the game — Seton Hall's biggest crowd of the season. It was the Play4Kay game in honor of former North Carolina State coach Kay Yow.
"She was one of the most respected coaches in the game and a mentor. She transcended all the groups and cliques in our game," Donovan said. "There's not a coach in our country who didn't have a high regard for her."
___
Follow Doug on Twitter at http://www.twitter.com/dougfeinberg