Brad Keselowski showed a champion's heart at Pocono in 2011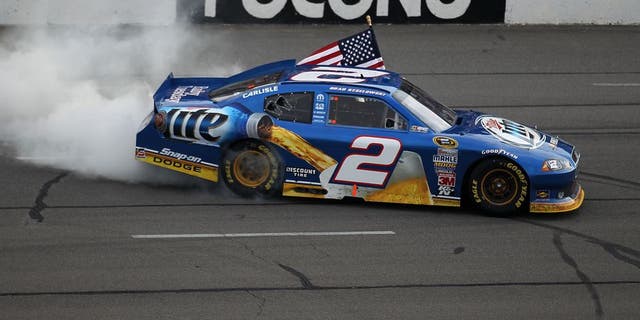 NEWYou can now listen to Fox News articles!
Obviously, it takes great skill to succeed as a driver in the Monster Energy NASCAR Cup Series or any other top-level form of motorsports.
Along with talent and a good work ethic, it takes courage and toughness, two under-appreciated personality traits. And one of the most impressive displays of those attributes came at Pocono Raceway, site of Sundays Pocono 400 (1:30 p.m. ET, FS1).
At the three-turn, 2.5-mile Pennsylvania track, Brad Keselowski had a career-defining moment.
It came in August 2011, when Keselowskis career was still in its early stages. At that time, Keselowski did something that hed only done twice in 73 prior attempts: Win a race in NASCARs top division.
At Pocono, Keselowski didnt simply win. He won with one broken ankle, one cut ankle, myriad bruises and bumps, and a right hand that was cut and blistered.
Four days prior to the Pocono race, Keselowskis Penske Racing Dodge had a mechanical failure at Road Atlanta, where he hit a concrete wall head on at 100 miles per hour during a test of his road-course car.
The impact broke Keselowskis left ankle and left it grotesquely swollen and discolored. The crash also left the driver bruised and sore all over his body.
And yet when race day rolled around, Keselowski refused to get out of his car and yield to a replacement driver.
Keselowski somehow went out and won at Pocono, a track where the left foot is busy all race long shifting and braking.
It was a true display of guts.
After the race, Keselowski was in so much pain he could barely lift the trophy. But when the race was on the line, the Michigan native came up huge at exactly the right time.
I came here to win, Keselowski said after his improbable victory. When you let the pain get into your head that far that you dont believe you can win anymore, youll never win. And I woke up this morning feeling like we could win the race. If you dont feel that way, youre never going to win at anything you do.
On that day at Pocono, Keselowski pushed on through the pain to score a historic victory and little more than a year later, he became a champion. Talent was part of Keselowski success, but he proved to the world that toughness was, too.