Brad Keselowski, Joey Logano optimistic about Team Penske's Chase chances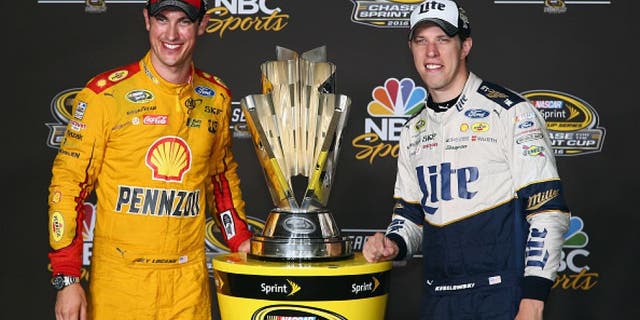 The Chase for the NASCAR Round of 12 is about to start and Team Penske drivers Brad Keselowski and Joey Logano are feeling it in a good way.
Saturday night's Bank of America 500 at Charlotte Motor Speedway kicks off the second act of the Chase, and both Penske drivers have won at this 1.5-mile track.
The teammates come into this round with a lot of confidence and high expectations, especially after last season, when Logano swept all three races in the round and Keselowski also advanced to the semifinal round of the championship.
In the first round of this year's Chase, Keselowski posted top-five finishes in all three races and Logano had a best finish of second at Chicagoland Speedway.
Certainly past performance in no guarantee of future achievement, but better to be coming into this round on a high note than with nagging doubts. Especially given that this is Team Penske's 50th year.
Friday at Charlotte Motor Speedway, all on-track activity was cancelled, but Keselowski, Logano and a few of Penske's top staff hosted a media luncheon at the waterlogged track. There, both drivers vowed they were ready to contend for a title this year.
"I feel like our teams have executed really well through the first round," said Logano. "Brad with three top-fives and ourselves with three great runs as well to get us through, including a second-place finish. It shows that we can handle the pressure. It shows that we're better under pressure and we're ready to get through this next round."
"Looking at all the rounds of the Chase I think the word opportunity comes to mind," said Keselowski, who in 2012 gave team owner Roger Penske his first NASCAR Premier Series championship.
"We have a tremendous opportunity with, I think, two high-running teams with the 22 (Logan) and the 2 (Keselowski) teams, that have run up front, won races this year, showed a lot of consistency, all the things that it's gonna take to make our way to Homestead and run for another championship," said Keselowski.
With Simon Pagenaud already giving Roger Penske the Verizon IndyCar title, Keselowski said he'd love to make it a sweep for this boss, a/k/a "The Captain."
"The 50th year is a big deal for us as you can tell," said Keselowski. "It's something that isn't lost on me. Every driver that drives for Team Penske wants to leave their stamp on the 50th year and I feel very fortunate to have had the success we've had so far, but I'm not content to just let it rest there.
"The opportunity is now. It's in front of us to win a second Sprint Cup championship. The cars and the team are more than capable. We just have to put it together."