Blues still looking for more scoring from top forwards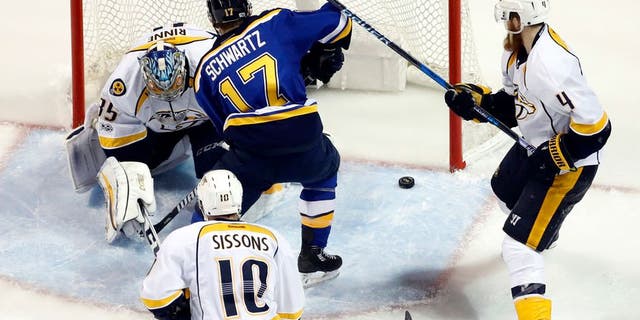 NEWYou can now listen to Fox News articles!
The first two periods of Game 1 of St. Louis'second-r0und series against Nashville looked much like the Blues' entire first-round series against Minnesota: St. Louis gotmassively outshot and goals camesparingly.
Though the Blues rallied for two goals in the third period before falling 4-3, they still haven't gotten much scoring from their top offensive players.
Vladimir Tarasenko has beenlargely silent so far in the playoffs: Hehas just one playoff goal after scoring a team-high 39 in the regular season. But Blues coach Mike Yeo isn't concerned.
"He's getting chances," Yeo said. "That doesn't mean that we don't want him scoring goals. We've got to find a way, and that's on us. But there's not much concern. … My concern would be if his head wasn't in the right place, and I've got no concerns about that."
It's not just Tarasenko. Second-line mainstays Patrik Berglund and David Perron are still searching for their first postseason goals.Jaden Schwartz and Alexander Steen are the only two forwards with multiple playoff goals.
Faceoff struggles may have something to do with that. Nashville won 38 of 61 faceoffs (62 percent) in Game 1, including a massive 16-1 advantage in the second period.
"We have to be better at that," Yeo said. "Certainly, they went in there and they dominated that area. I thought they dominated a lot of the 1-on-1 battles in the game, too, so they were better than us in all the small areas of the game and that's why they won."