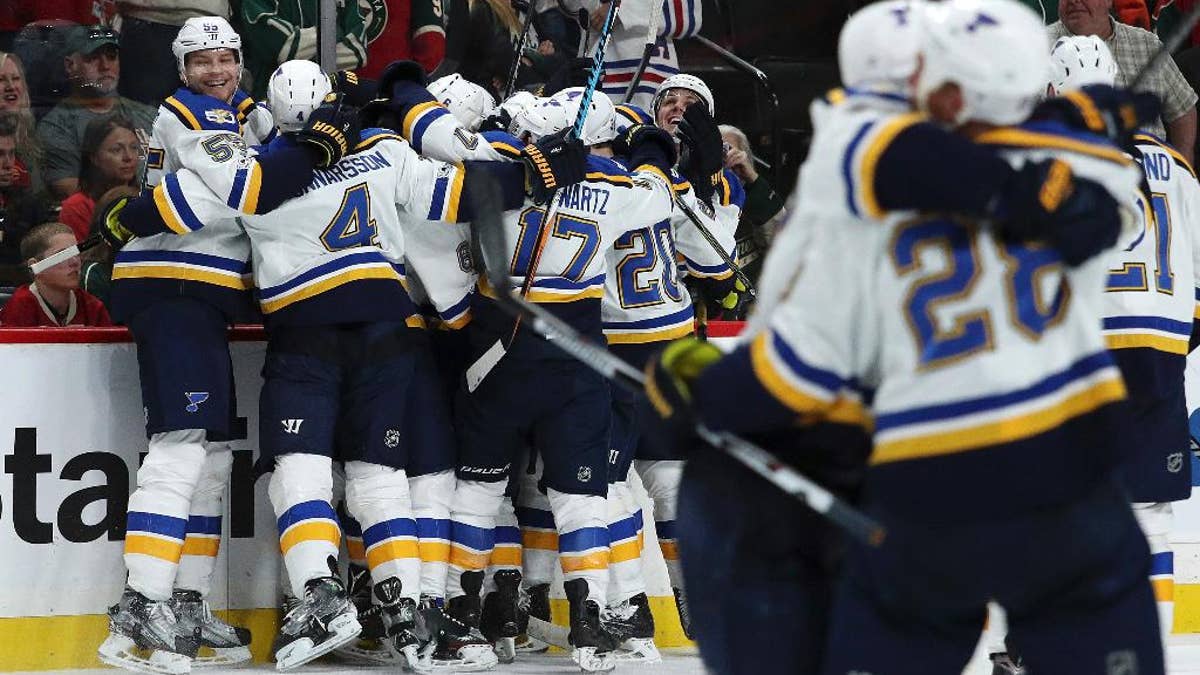 ST. LOUIS – While many of his teammates enjoyed a well-deserved break, St. Louis Blues center Paul Stastny was on the ice for the team's optional skate.
To Stastny, there was no time to lose preparing for the Western Conference semifinal series against the Nashville Predators.
Being back on the ice, and back in action, is a relief after the Blues' top center missed the final 10 games of the regular season and first four games of the series against the Minnesota Wild with a foot injury.
"I was just happy to be back on the ice with the boys," Stastny said of his return for the Game 5 series clincher against the Wild. "After that long, you appreciate what they're doing, but at the same time you feel left out a little bit. You want to come back as quick as you can, contribute any way, and most important for us, we got the win. Now we've got a couple more days off to heal up a little bit and get ready for Nashville."
And that foot?
"It feels good," Stastny said. "Every day's been better. Haven't had one day where it felt worse than the day before, so every day's been a progression."
The Blues are hoping Stastny's return helps them progress in the playoffs. He scored in the third period of the team's 4-3 overtime victory at Minnesota on Saturday and won a team-high 13 of his faceoff attempts.
Next up are the Predators, who won three of five games against the Blues during the regular season. Game 1 is Wednesday night in St. Louis.
Stastny figures to be a central figure in the second-round series, centering the top line between Vladimir Tarasenko and Jaden Schwartz and on faceoffs, where he won a team-best 55.7 percent during the regular season.
"He's a top faceoff guy for us and he's a guy we use on power-play faceoffs, penalty-kill faceoffs and certainly 5-on-5," Blues coach Mike Yeo said. "He just helps us offensively and you don't have to defend as much when you can start with that puck. So he's a real important player to have back in the lineup."
"Then it spreads things out," Yeo said. "You get stronger through the rest of your lineup. When you see a game winner like we saw last game with a guy like Maggy (Magnus Paajarvi) and Sobi (Vladimir Sobotka) and Lets (Jori Lehtera) going out there and making that happen, because you have the strength up higher in your lineup those guys have a chance to do that."
The 31-year-old Stastny, who signed a four-year, $28 million deal to return to his hometown team before the 2014-15 season, will have a tough matchup against Predators center Ryan Johansen this series.
Johansen, who outplayed Blackhawks center Jonathan Toews in Nashville's opening-round sweep, racked up 61 points during the regular season, tied for the team lead, and had six points in four games against Chicago. He won 54.6 percent of his faceoffs during the regular season.
"He's a smart player," Johansen said, "really good two-way player, good on faceoffs. Will be a challenge for myself on the dot."
Nashville's Peter Laviolette coached Stastny when he was an assistant on the United States' 2014 Olympic team in Sochi.
"He's a real steady two-way player," Laviolette said. "Good in the faceoff circle, good in the defensive zone, good in the offensive zone. Good 200-foot player."
___
More AP NHL: https://apnews.com/tag/NHLhockey