Blind open to Van Gaal return as the Dutch FA's technical director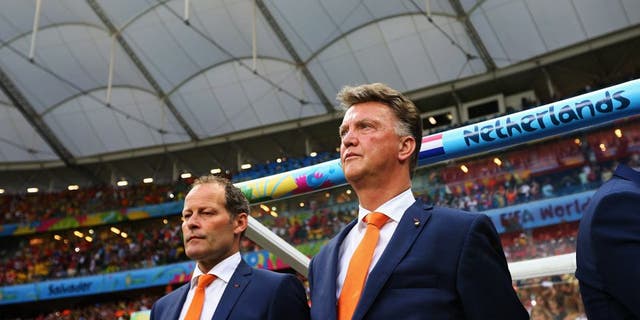 Netherlands coach Danny Blind believes Louis van Gaal would make an excellent appointment as the Dutch football association's technical director.
Van Gaal's position as Manchester United manager has come under intense scrutiny in recent weeks following a wretched run of form.
United suffered elimination from the Champions League earlier this month and are without a win in eight matches in all competitions.
Van Gaal has twice taken charge of the Netherlands and led them to the semi-finals of the 2014 World Cup in Brazil, losing to Argentina on penalties.
The Dutch football association (KNVB) are yet to announce whether they intend to appoint a technical director to help reinvigorate the national side following their failure to qualify for the 2016 European Championships in France.
However, Blind feels a potential return for Van Gaal to the national set-up would have a positive effect on him and the team.
"With Van Gaal I could achieve a lot," Blind told Algemeen Dagblad.
"He is in the top category. But there are also many other options to think of where the shoe could fit.
"I do not know if that will happen. I recently read a comment by Bert van Oostveen [KNVB director of professional football] about [appointing a technical director]. But I have not spoken to him about it personally.
"The key question is: what are the pillars of the work of a technical director? I have been one myself a couple of times in my career and basically it comes down to a buying and selling policy but that is at a club, not at the KNVB.
"It comes to the flow of youth players. You have to offer an exciting job and it must be someone with respect. It's difficult."