Blanco, Lamb rally D-backs to narrow win over Phillies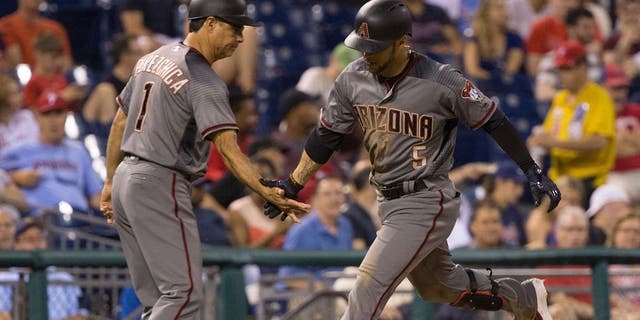 NEWYou can now listen to Fox News articles!
PHILADELPHIA -- Gregor Blanco wants everyone to take notice when he hits a rare home run.
Blanco hit a tying two-run homer in the seventh and Jake Lamb drove in the go-ahead run with a sacrifice fly later in the inning to rally the Arizona Diamondbacks to a 5-4 victory over the Philadelphia Phillies on Friday night.
According to MLB StatCast, Blanco's 23rd career homer -- and second this season -- against Aaron Nola (3-5) had an estimated distance of 424 feet into the concourse in right field.
"I hit one like that in Miami a couple years ago off Jose Fernandez that went into the upper deck," Blanco said. "I don't hit many, but when I hit a homer, I hit it far."
Pinch-hitter Jeremy Hazelbaker starter off the seventh with an infield single, and Blanco followed with hhis tying shot on a 2-2 pitch.
"It wasn't an easy at bat," Blanco said. "Nola was doing a good job mixing up his pitches. In that situation I was just trying to put a good swing on the ball. He left it a little up and I was able to hit it out."
David Peralta tripled among his three hits, including a single that followed Blanco's homer. Peralta advanced to third on Paul Goldschmidt's single off Pat Neshek and scored on Lamb's fly ball to center field.
"We do well responding to a lot of negative moments and I think that's what good teams do," Arizona manager Torey Lovullo said. "They learn how to win and stay together. The big blow was Gregor's home run to tie it, but inside of the game after that we had a lot of (good) little moments."
Patrick Corbin (6-6) gave up four runs -- two earned -- and five hits while striking out five in six innings to get the win. Fernando Rodney got the last three outs for his 19th save.
The Diamondbacks have won five straight and eight of their last nine to improve to match their franchise-best mark through the first 68 games at 42-26.
Odubel Herrera had two hits and scored twice for the Phillies, and Maikel Franco drove in two runs.
The Phillies had a chance to tie it again in the bottom of the seventh when reliever Andrew Chafin put two runners on with two walks sandwiched around a sacrifice. He then struck out Herrera and Archie Bradley fanned Howie Kendrick.
"I was supposed to be ready for Kendrick and I was able to come in and retire him," said Bradley, who has thrived as a setup man after struggling as a starter in Arizona. "I've really embraced what I'm doing. We all do. We're all doing it for the sake of the team. This is fun. It's fun to win and we want to keep it rolling."
Nola gave was charged with all five runs and nine hits -- eight singles -- in six-plus innings. He walked two and struck out six.
"Nola pitched pretty well," Phillies manager Pete Mackanin said. "After six innings, two runs, he pitched pretty well. Then in the seventh he just hung a curveball to Blanco, which is a mistake, and he got burned."
Arizona scored twice in the fourth to take a 2-0 lead. With runners on first and second, Phillies third baseman Franco bobbled an easy double-play ball and was only able to secure one out with the runners advancing. Daniel Descalso followed with a run-scoring grounder and Jeff Mathis had an RBI single.
Kendrick had an RBI grounder in the bottom of the inning to pull the Phillies within one, and Cameron Rupp hpomerd to tie the score in the fifth with his fifth of the season.
Franco gave Philadelphia with a two-run double in the sixth.
TRAINER'S ROOM
OF A.J. Pollock will begin a rehab assignment Saturday at Triple0-A Reno. Pollock ran the bases without any issue Friday. He has been sidelined with a groin injury since being placed on the disabled list May 15. If all goes well, he should be back with the team when Arizona returns home at the end of next week.
UP NEXT
Diamondbacks: RHP Zack Godley (2-1, 2.44) has been a pleasant surprise for the Diamondbacks and has had six consecutive quality starts since becoming a regular part of the starting rotation in early May.
Phillies: RHP Jerad Eickhoff (0-7, 5.09) is still searching for his first win in what will be his 14th start of the season, but he hasn't gotten much help from his teammates. The Phillies have scored fewer than two runs in five of his 13 starts and his 2.96 run support per game is the lowest in the National League.