Big 12 midterm report: Texas Tech QB could be a future Heisman contender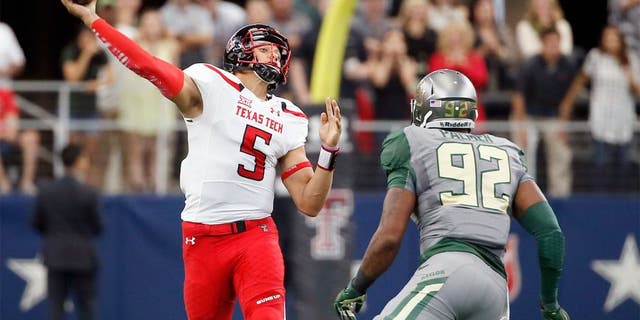 NEWYou can now listen to Fox News articles!
Patrick Mahomes has put up some gaudy numbers under Kliff Kingsbury as a sophomore. Tony Gutierrez AP Photo
Midseason MVP: Trevone Boykin, TCU
After a slow start, Boykin has lived up to the Heisman buzz since Big 12 play kicked off.
Excluding Boykin's clunker (by his standards, at least) against Minnesota in Week 1, the TCU signal caller has averaged 382 passing yards per game and has tossed 24 touchdown passes. The Horned Frogs' defense is injured and leaky, but their QB is their rock. TCU is 7-0 heading into its bye week.
Freshman of the half(year): Mike Warren, Iowa State
It's been another tough year in Ames, but the Cyclones have an absolute stud in the backfield.
Since taking over the starting role against Toledo in Week 3, Warren has turned in dazzling performance after dazzling performance. He rushed for 126 yards against Toledo, 175 yards against Kansas and 245 yards against Texas Tech. Warren has been Iowa State's best offensive player by a mile and the most dynamic freshman in the Big 12.
Biggest surprise team: Oklahoma State
The Cowboys sit at 6-0 and are the No. 14 team in the country. They've done so by willing their way to victory in several close games.
The Pokes have knocked off Texas, Kansas State and West Virginia by 12 combined points. Though one could consider that a testament to their late-game fortitude, an argument could also be made that they're in for a rude awakening for the likes of Oklahoma, TCU and Baylor. But with all of that said, Oklahoma State will probably start the season 8-0, and not many folks saw that coming.
Biggest surprise player: Patrick Mahomes, Texas Tech
Kliff Kingsbury's offensive is obviously quarterback friendly, but it was not a foregone conclusion that Mahomes was going to win the job out of training camp. But he did, and he's been electric at the QB spot for the Red Raiders.
The sophomore has put up some gaudy numbers thus far, already throwing for 2,618 yards and 20 TDs while rushing for six more. If Tech can improve its defense in the coming years, Mahomes could be a sneaky Heisman candidate for 2016 and 2017.
Biggest disappointment team: Texas
Texas' win over Oklahoma was huge, and if it weren't for that, this category would belong to the Longhorns by a wide margin. They still emerged from Dallas victorious, but that doesn't mean it's been smooth sailing for Charlie Strong's bunch in 2015.
It's not the 2-4 record that stands out; it's the fashion in which they've lost their games. A few examples: Getting shellacked by 35 against Notre Dame on opening night. Being embarrassed by 43 points against TCU. Losing on special teams blunders against Cal and Oklahoma State in back-to-back weeks.
There are reasons for optimism in Austin, but the Horns still have a lot to prove in the second half of the season.
Biggest disappointment player: Samaje Perine, Oklahoma
It was reasonable to think Perine's numbers could dip a bit with Lincoln Riley installing the "Air Raid" attack in Norman, but the sophomore tailback has taken a significant step back in 2015.
Perine is averaging two full yards less per carry than he did in his freshman season, and he's only topped the 100-yard threshold once. For a guy that was considered one of the best five runners in the country going into this season, that's awfully troublesome.
Biggest loss: Oklahoma against Texas
The Sooners have looked outstanding all season long…. Except for in Week 6 against the struggling (at the time) Longhorns. With a win, Oklahoma would be sitting undefeated right now and nipping at TCU and Baylor's heels.
Now, it's highly unlikely that OU will be considered for a playoff berth unless it can sink the Bears and Horned Frogs. That's no small task. As mentioned before, Texas was searching for answers heading into the Red River Rivalry. The found far too many for Sooner fans' liking.
Most viral moment: Iowa State holder goes nuts after his kicker makes a PAT
This may not have been the most viral moment, but for people who appreciate football and a good sense of humor, it should have been.
Play of the Year: Aaron Green's game-winning snag that allowed TCU to avoid the upset against Texas Tech
Worst play of the year: Texas blows second game in a row on special teams against Oklahoma State
Best game ahead: Baylor at TCU, Nov. 27
For all intents and purposes, this is looking like a play-in game for a spot in the College Football Playoff. It should be a doozy.
Player to look out for in the second half: Seth Russell, Baylor
He's obviously a big name that gets overshadowed by Boykin. But is the TCU star really that much better of a player than Russell? If at all?
Bryce Petty's successor has been phenomenal for the Bears and has been a beacon of consistency. The first-year starter has posted a QBR of 90 or higher in each of his last five outings, and has one more TD pass on the season than Boykin. He's only trending upward, and the junior could be the quarterbacking the national champions when all is said and done.
Final four: Baylor, Ohio State, Clemson, LSU
Team to get passed over: If Baylor, Ohio State and Clemson all go undefeated, which I suspect they will, then it could come down to a one-loss team in the SEC vs. a one-loss team in the Pac-12. I see Utah losing to Stanford and LSU losing at least once, but the Tigers have a lot going for them. First, they play in the gauntlet that is the SEC (mythical or not) to its credit. And, of course, they have a sexy Heisman contender in Leonard Fournette. That sort of thing shouldn't matter, but that doesn't mean it won't.