Bengals' offense has new look with top 2 rookies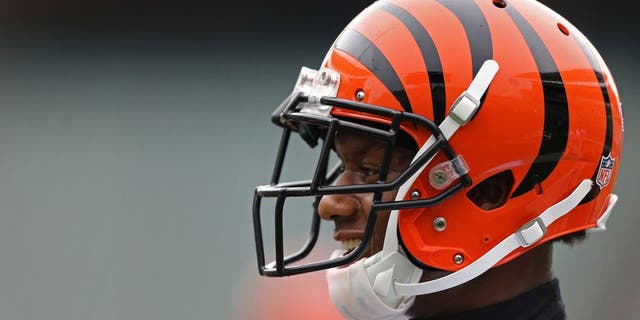 NEWYou can now listen to Fox News articles!
CINCINNATI (AP) -- John Ross got his diploma. Joe Mixon lost 10 pounds. The Bengals' top rookies spent the last few weeks finishing their college careers and getting ready to try to make an immediate impact in the next one.
The receiver and running back will be front and center between now and the season opener. An offense that slipped considerably last year is hoping the infusion of its top two draft picks will make a big difference right from the start against the Ravens on Sept. 10 at Paul Brown Stadium.
The rookies are up for it.
"Everybody's a home run threat," Mixon said Tuesday before the first practice of a mandatory minicamp. "What we're adding to this offense with me and John, and they've already got A.J. (Green) and Brandon (LaFell), just the other pieces added to the puzzle -- it's going to be dangerous."
That's the hope down the line. First, the rookies had some things to complete. Ross finished his undergraduate degree at Washington, a big moment for his family.
"It was probably bigger than getting drafted in my opinion, just because I feel like it's something that can't be taken away from you," Ross said. "I was the first generation to graduate in my family, so it was pretty big for me and everybody."
Ross is still recovering from a torn labrum and will be limited until training camp. He ran and did agility drills on Tuesday, but didn't wear a helmet or participate in any passing drills that would force him to extend his arms.
The speedy receiver -- he ran a record 4.22 in the 40-yard dash at the NFL combine -- got a crash course in the Bengals' offense after he was drafted. There was a lot more to learn when he showed up for minicamp; the team gave the rookies a deeper look into the playbook.
"Everything's not all new," he said. "I've seen a few of the things. It's new material, but it's not as hard as I thought it would be."
Mixon spent the last few weeks losing weight. He was 238 pounds when the Bengals drafted him, the most he's weighed during his football career. He increased his workouts, cut back on carbohydrates and dropped 10 pounds for the start of minicamp.
"I'll never be that big again," he said. "Never."
Mixon's role will be one of the main story lines of training camp. The Bengals have incumbents Jeremy Hill and Giovani Bernard, who is recovering from a torn ACL suffered midway through last season. Cincinnati took Mixon in the second round because he's so well-rounded, overlooking his suspension as a freshman at Oklahoma for punching a woman in the face.
Mixon's locker is right next to Ross' locker, leaving the two linked in all they do going forward.
"I just can't wait to see him on the field," Mixon said of Ross. "When we're on the field, everything is going to take care of itself."
For the second year in a row, the Bengals are entering a season with a lot of newness on offense. Last year, Ken Zampese was promoted to offensive coordinator after Hue Jackson became Browns head coach. Rookie receiver Tyler Boyd developed as the season went along.
"Last year, there was a lot of stuff that was new with (Zampese) taking over as the coordinator, then a couple new receivers," quarterback Andy Dalton said. "We don't have that this year."
NOTES: The start of the first minicamp practice was delayed about 15 minutes because of storms. The Bengals are the most northern NFL city without a covered field. … CB Dre Kirkpatrick didn't participate in drills as he recovers from a hand injury.