Bengals can't 'take the cheese' after 4-0 start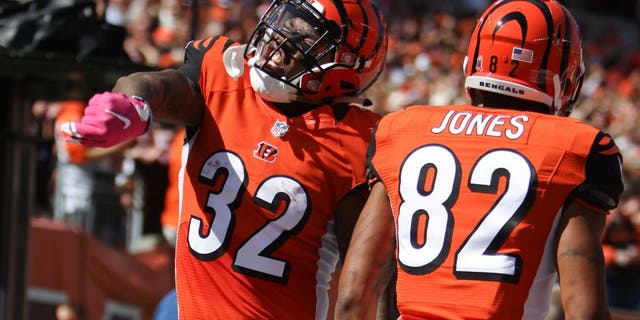 NEWYou can now listen to Fox News articles!
On offense, the Bengals scored touchdowns. On defense, they held the Chiefs to field goals. That was the recipe for a 36-21 win over Kansas City on Sunday that gave Cincinnati its first 4-0 start since 2005.
Head coach Marvin Lewis call it "probably our best" game of the season, but he's already moving on to his team's next opponent -- the visiting Seattle Seahawks, who host Detroit on Monday night.
"Today is over. It was a good job by us today, but today is over," Lewis said via Bengals.com. "We still have a lot of stuff to work on -- penalties and some other things to clean up out there from today. Just keep rolling and keep grinding. It's a good win for us. We'll get started again tomorrow."
The stellar play of quarterback Andy Dalton has been one of the big reasons for Cincinnati's hot start. Dalton is completing 67.2 percent of his passes and has nine touchdowns against one interception. Dalton was an efficient 17 of 24 for 321 yards and a touchdown against Kansas City. It also helps when he's able to stay on his feet for most of the game. The offensive line didn't allow a sack for the third time in four games.
"The Chiefs have one of the best pass-rushers in the league in Justin Houston," Dalton said. "Our offensive line answered. They contained him well. The result was that I didn't get hit much today."
On the other side of the ball, the Bengals held the Chiefs out of the end zone, limiting them to seven field goals. Defensive end Michael Johnson forced a crucial fumble late in the third quarter after the Chiefs had closed within six points, setting up Jeremy Hill's 5-yard touchdown run. They also notched a season-high five sacks and now have 11 even on the season after finishing 2014 with just 20, the fewest in the NFL.
As cliche as it sounds, every Bengal was singing the same tune in the locker room -- one game at a time, get better with each game. It might be the best approach considering safety George Iloka admitted last week that the locker room may have believed its own hype after a 3-0 start in 2014.
If Johnson's postgame advice is any indication, the Bengals have learned their lesson.
"Don't take the cheese," Johnson said.