Beast Mode formula clicks as Seahawks' Lynch piles up 122 yards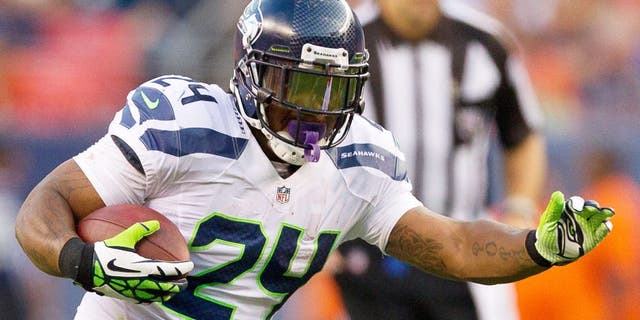 NEWYou can now listen to Fox News articles!
Marshawn Lynch had his first 100-yard game of the season. Justin Edmonds Getty Images
The Seattle Seahawks went back to a familiar formula to snap a two-game losing streak.
The Seahawks put the ball in the hands of Marshawn Lynch and the bruising running back responded with 122 yards and a touchdown on 27 carries in a 20-3 victory over the San Francisco 49ers on Thursday night.
"That is Seahawks football. We go with Marshawn," wide receiver Doug Baldwin said. "He leads the way. We'll go as far as he takes us."
It was the first 100-yard effort of the season for Lynch, who sat out two games while dealing with a hamstring injury sustained in a Week 3 victory over Chicago. It was also the highest number of regular-season carries for Lynch since Week 2 of the 2013 season against the 49ers.
Seattle set the tone on its first possession by running Lynch nine times on a 12-play, 61-yard drive that he finished off by powering in from a yard out. In fact, Lynch briefly became ill on the sideline after scoring, which coach Pete Carroll attributed to being "gassed" from the early workload.
"Nice to see us run the football again and run it with some authority," Carroll said. "Marshawn had a really solid night tonight and the guys up front did too."
MORE NEWS: Want stories delivered to you? Sign up for our NFL newsletters.