Baylor was so bad before Art Briles it's almost not believable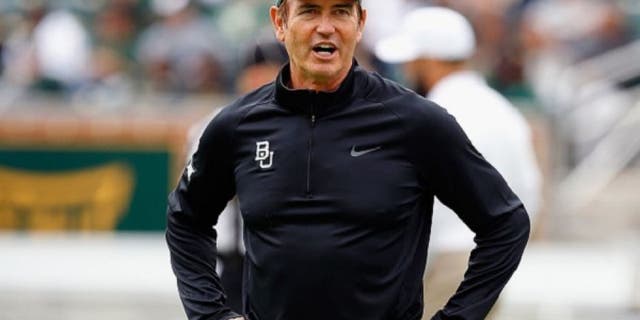 NEWYou can now listen to Fox News articles!
Baylor became bowl eligible under Art Briles last week for a sixth consecutive season. FOX Sports
Baylor is ranked No. 2 in the nation, which still sounds totally strange. Because before Art Briles took over the program in 2008, the last time the Bears finished a season ranked in the AP top 25 was in 1986. They finished at No. 12.
That was a decade-and-a-half before Briles decided to leave his Texas high school football roots to give the college game a try. The 59-year-old coach was still four years from being born the last time Baylor managed a top-10 finish. He took care of that last year, coming in at No. 7.
So, yeah, some still might find it strange to hear all this talk about Briles' Bears being the best team in the nation with a real chance to win the private Baptist school in Central Texas a football national championship.
Before Briles arrived, there was a real belief that maybe nobody could ever turn the program, not in the Big 12 where Texas and Oklahoma shared a virtual stranglehold on the conference title.
Let this sink in: From 1996 (the first year of the Big 12) to 2007 (the final year before Briles), Chuck Reedy, Dave Roberts, Kevin Steele and Guy Morriss compiled a 35-94 overall record and 11-86 in the Big 12 -- eleven and eighty-six. That included 10 seasons of either one or no conference wins, and a high-water mark of three wins. That happened once.
Briles' Baylor record in seven-plus seasons is 61-34 overall and 33-27 in the Big 12. In the last two-plus seasons, the Bears are 28-4 and 13-2.
The Bears (6-0, 3-0) became bowl eligible last week with a collective shrug of the shoulders. Such an accomplishment pre-Briles would have warranted a parade. The Bears have now qualified for a bowl in six consecutive seasons. They went to six bowl games from 1983-2009.
These type of extreme comparisons can go on seemingly forever. That's how astounding Briles' accomplishments are. Here's one more: The Bears, boasting one of the most explosive offenses in the nation for several seasons now, have not only won two consecutive Big 12 titles (sharing it with TCU in 2014) while they never even sniffed one before Briles, they can join Oklahoma as the only team to win three in a row during the conference's existence.
For a few more Baylor blights from the bottomed-out years, the staff at Lost Lettermen dug some up:
• Baylor endured 14 consecutive losing seasons from 1996-2009
• Baylor had never beaten Oklahoma until 2011 (0-20), and now will go for a third consecutive win over the Sooners on Nov. 14
• From 1998-2008, Baylor lost 12 in a row to Texas with an average margin of 37 points. Baylor was shut out four times. Baylor has won four of the last five with its only loss being by six points.
• From 1996-2008, Baylor had six first-round draft picks. They've had five in the seven years since.
MORE NEWS: Want stories delivered to you? Sign up for our College Football newsletters.