Bartolo Colon Goes Old School, Carlos Zambrano Sounds Off, and Francisco Cordero Joins 300 Club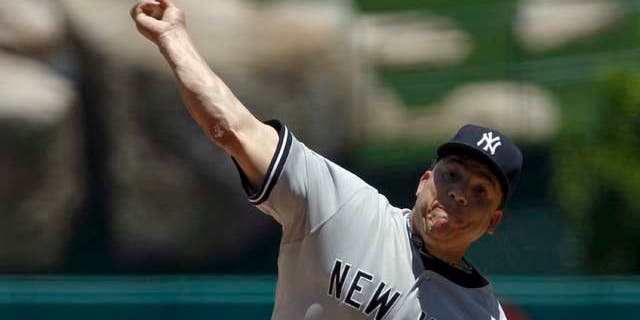 A weekly review of Latinos making news in the world of baseball
Colón Goes Old School
Bartolo Colón capped off an impressive week by pitching into the sixth inning and picking up the win as the New York Yankees beat the Los Angeles Angels of Anaheim, 4-3, on Sunday.
Colón was coming off his best start of the year, one in which he took it back to when he was a dominant pitcher in the league and won the American League Cy Young award with the Angels in 2005. He dialed up nine shutout inning in his start last Monday at Oakland. Colon allowed four hits, struck out six and didn't walk anyone in his first complete game shutout since July 2006.
The Yankees and their fans must be giddy with what Colón has accomplished so far since stepping in as a starter after the team took a chance on him and added him to the club as reliever to open up the season.
Yankees captain Derek Jeter told reporters after Colón's gem against the Athletics that, "When he first came up he just threw the ball as hard as he could. Now he's hitting his spots, his ball is moving, he's getting ahead of guys. He's become more of a pitcher. I think he was more of a thrower when he first came up."
Colón is 4-3 as a starter, a remarkable accomplishment for a guy who was out of baseball for a year after undergoing surgery. Stem cells were used during the procedure, performed in the Dominican Republic, which repaired his troublesome shoulder. He pitched this past winter in the Dominican winter league for the Aguilas Cibaenas, a team managed by Yankees bench coach Tony Peña.
MLB is still investigating the procedure and the doctor who performed it has maintained that he never used HGH or any other performance enhancing substances to revive Colón's once-lost career.
At 38, Colón told writers after his start against Oakland that he felt better than he has in years.
"I feel really strong physically and mentally right now," Colon said through an interpreter. "I feel really good right now. It doesn't matter that I'm 38 years old. I feel really good right now.
The Big Z Sounds Off
Chicago Cubs starter Carlos Zambrano went off on the team's recent play and called out a teammate after the Cubs' loss on Sunday, 3-2, to the St. Louis Cardinals.
It was the sixth straight loss for the Cubs.
"The problem wasn't (Albert) Pujols. The problem was the previous at-bat. We should know better than this. We played like a Triple-A team," Zambrano said. "This is embarrassing, embarrassing for the team, for the owners, for the fans. Embarrassing. That's the word for this team.
"We should know better than this, we should know better than we did on the field. We should know that Ryan Theriot is not a good fastball hitter," he continued, referring to the former Cub. "We should know that as a team. We should play better here. We stink. That's all I've got to say."
Cubs closer Carlos Mármol, who gave up the game-tying hit to Theriot in the ninth inning, was the apparent target, at least in part, of the rant. Zambrano, who started and allowed one run in seven innings, lost out on what would have been a win.
Chicago is 23-34 and in fourth place in the NL Central after being swept this weekend in the three-game set against the division-leading Cardinals.
It's Been a While...
Colorado's Ubaldo Jiménez finally was able to get his first win of the season against the same team he last beat, the Los Angeles Dodgers.
Jiménez was nearly unhittable, allowing just four hits, walking none and striking out seven to pick up his first victory since Sept. 17, 2010.
Various pitches by the righty hovered around the upper 80s during at-bats in the late innings but was able to crank it up and throw in the upper 90s in the ninth. At one point he retired 14 straight.
It was his third career shutout and first since May 31, 2010, at San Francisco.
The Rockies lost Jiménez's first six starts of the season. During that stretch he alternated between a no-decision and a loss before Colorado broke that streak with a win on May 17 against the Giants. Jiménez then lost his next two starts before beating the Dodgers.
Jiménez told reporters that he went back to video from that start he last had won last year against the Dodgers.
"It feels great. It's been a long time," he said, a big smile never leaving his face. "It was really special and hopefully it stays the same.
"I saw a couple things and I said, 'This is what I'm going to work on,'" he said. "I been working really hard. It's not like it came one day. It feels great. It's been a long time. It was really special and hopefully it stays the same."
The 300 Club
Cincinnati closer Francisco Cordero saved his 300th career game on Wednesday night against the Milwaukee Brewers.
He became the 22nd pitcher to get 300 saves, tying Bruce Sutter along the way.
"That's a big number. I don't know what to say. I'm just so excited," said Cordero after pitching a perfect ninth inning. "I'm really happy. I'm just glad I could get it out of the way. Now I can focus on getting saves and helping us get to the playoffs."
Cordero started out his career with Detroit before moving on to Texas and Milwaukee, establishing himself as one of the game's top closers.
He's picked 123 saves in four seasons with the Reds, and is third in the team's history behind Danny Graves (182) and John Franco (148).
Adry Torres, who has covered MLB, NFL, NBA and NCAA basketball games and related events, is a regular contributor to Fox News Latino. He can be reached at elpiloto137@gmail.com or follow him on Twitter: @adrytorresnyc.
Follow us on twitter.com/foxnewslatino
Like us at facebook.com/foxnewslatino