Barcelona's Javier Mascherano sentenced to a year in prison for tax fraud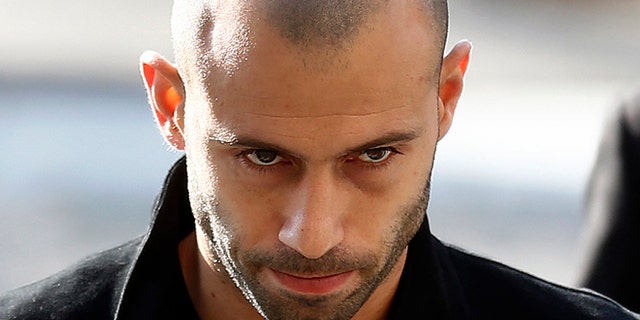 MADRID (AP) – Although he is not expected to serve any time in jail, Barcelona defender Javier Mascherano was handed a one-year prison sentence Thursday for not properly paying taxes in Spain.
Mascherano was also fined nearly 800,000 euros (about $850,000) and prevented from receiving any tax benefits for a year. The prison sentence is expected to be replaced by another fine or dismissed entirely.
The sentencing came nearly three months after the Barcelona defender had reached a deal with prosecutors and the attorney's office for failing to pay nearly 1.5 million euros ($1.6 million) in taxes for 2011 and 2012. He has already paid back everything he owed.
The Argentinian, who has played for Barcelona since 2010, was accused by Spain's tax office of concealing part of what he earned in image rights.
In a statement to local media, Mascherano said he got into trouble after following the advice of people he hired to manage his taxes after arriving in Spain. He said he had thought everything was being done according to the law.
"This deal gives me back the tranquility to know that I am up to date with my obligations," he said. "During my entire career, I have been honest and responsible. I take this as another experience, and I come out of it stronger and in peace knowing that I'm doing things the right away again."
Mascherano said he may take legal action against the tax consultants he originally hired who, he said, "recommended what was not correct."
The player spent only a few minutes in court on Thursday as the sentencing was announced.
"The situation is that Javier Mascherano has been sentenced today due to accusations that he has accepted," said one of the player's lawyers, David Aineto. "He has been sentenced because of those accusations and he has accepted the verdict of the justice. Now he has to pay the fine and the Mascherano case will be closed."
The judge is expected to decide in the next few days whether the prison sentence will be replaced by a fine of about 21,000 euros ($22,900) or if it will be dismissed.
Mascherano's sentencing comes only a day after a Barcelona court set the dates for Lionel Messi's tax fraud trial.
Messi and his father are expected to appear before a judge May 31-June 3 for allegedly defrauding Spain's tax office of 4.1 million euros ($4.4 million) in unpaid taxes from 2007-09. They have been charged with three counts of tax fraud and could be sentenced to nearly two years in prison if found guilty.
Another Barcelona player set to appear in court in the coming months is Neymar, who has been asked to testify in an investigation into alleged irregularities involving his transfer from Brazilian team Santos to the Catalan club.
Neymar's parents, former Barcelona president Sandro Rosell and current president Josep Bartomeu also will have to appear before a judge on Feb. 1-2. Neymar also had some of his assets frozen because of accusations of tax fraud in Brazil.
Spain has recently been cracking down on tax evasion as part of its fight to repair the country's public finances. Spain's tax office also is investigating midfielder Xabi Alonso's taxes for 2010, when he played for Real Madrid before moving to Bayern Munich in 2014.
Like us on Facebook
Follow us on Twitter & Instagram