Baltimore Raves at Jacksonville Jaguars game preview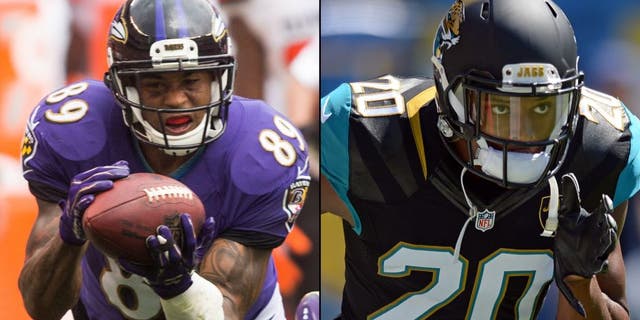 TV: CBS
Time: Sunday, 1 p.m.
Jacksonville Jaguars coach Gus Bradley remains adamant that there is no need to overreact to a Week 2 loss to San Diego.
No matter how ugly it was.
Now the Baltimore Ravens are headed to Jacksonville with a chance to continue their best start to a season in seven years while dealing Bradley's enduring confidence another blow following one of the most disheartening defeats of his tenure.
"It's one game. One game that we did not play well," Bradley said. "You take a look back and you sit back and you re-evaluate things. I think we observed what happened and we interpreted what happened. Now we have to apply it. That's where we're at now."
The Jaguars have been unable to turn evaluations into wins under Bradley, who is now 12-38 in his three-plus seasons coaching the team. Last week's 38-14 throttling by the San Diego Chargers was among the team's most brutal performances.
Through three quarters, quarterback Blake Bortles had no touchdowns and three turnovers while he struggled to get his top play-makers involved. Meanwhile, the defense was getting gashed for five touchdowns as the Chargers led 35-0.
San Diego quarterback Philip Rivers again picked apart the Jaguars, finishing the game 17 of 24 for 220 yards with four touchdowns and zero interceptions.
"He's elite. We all know that," Jaguars cornerback Dwayne Gratz said. "He went out there and played a great game. Hats off to him."
While the Jaguars keep finding ways to lose, the Ravens have proved they know how to win.
Baltimore came out on top of a defensive struggle against Buffalo in Week 1 and overcame a 20-0 first-quarter deficit to beat Cleveland 25-20 on Sunday.
The victory gave the Ravens their first 2-0 start since the 2009 season.
"The guys just kept fighting and clawed their way back in, slowly but surely," Ravens coach John Harbaugh said. "They never gave up on one another, and (resilience) is probably what you attribute that to."
A rejuvenated Mike Wallace has played an important role in infusing energy into the team's receiving group. Playing in his first season with the Ravens, Wallace already has three touchdowns as part of his seven catches for 132 yards.
Tight end Dennis Pitta has also been effective with a team-leading 12 catches for 141 yards.
Baltimore's offense could be primed for a big week against Jacksonville, which has allowed 32.5 points per game (tied for 28th in the league), but veteran receiver Steve Smith said he doesn't pay much attention to what an opponent did the previous week.
No matter how bad it was.
"Sometimes numbers can lie," Smith said. "Unless you watch the game and understand how and why, then you can look at a box score and say, 'Oh, that team is not very good.' You just can't do that."
Smith contributed eight catches for 83 yards after returning from an Achilles tendon injury that he said "pretty much sucked" to recover from.
"It was horrible," he said.
That's also an accurate description for how the Jaguars played against San Diego's receiving threat.
Chargers receiver Travis Benjamin burned Jacksonville for 115 yards and two touchdowns last week while receiver Tyrell Williams and tight end Antonio Gates both added scores of their own.
Coverage could be an issue again for the Jaguars as cornerback Prince Amukamara (hamstring) and strong safety Johnathan Cyprien (knee/triceps) missed practice Wednesday.
The Jaguars were also with left tackle Kelvin Beachum (concussion), defensive end Jared Odrick (triceps) and receiver Allen Robinson (illness). Running back Chris Ivory (medical issue) returned to practice for the first time since Sept. 9.
The Ravens were without left tackle Ronnie Stanley (foot) for practice Wednesday while linebacker Elvis Dumervil (foot) was limited.
These teams met last November in Baltimore and played one of the wildest games of the season.
The Ravens appeared to win at the end of regulation, but Dumervil was flagged for pulling on the facemask of Bortles to give the Jaguars one untimed down.
Gifted with another chance, kicker Jason Myers connected on a 53-yard field goal to give Jacksonville a 22-20 victory. Both teams finished the season 5-11.
"That's definitely one of the craziest finishes to a game that I've ever been a part of," Myers said. "Thankfully, it worked out in our favor."
The NFL later announced Baltimore should have won, saying a false start penalty on the Jaguars was missed on the play that ended with Dumervil's penalty. A 10-second run-off would have been issued to end the game.
That didn't make the result any easier to swallow for the Ravens.
"I don't really ever forget that game," Harbaugh said. "It doesn't have to be spurred. That's always been kind of on my mind. It was a great football game, a tough loss for us. They deserve credit. They found a way to win. That was a real tough loss for us."