Baltimore Orioles need to boost their farm system before it's too late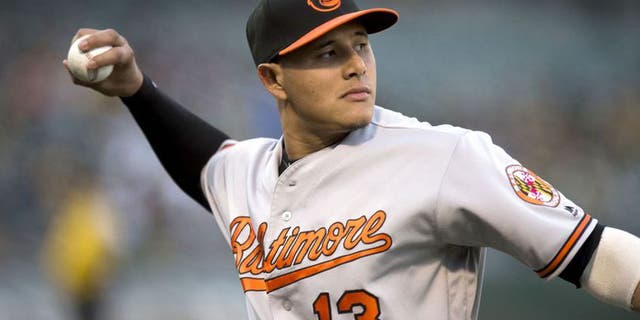 NEWYou can now listen to Fox News articles!
The Orioles soon will be at a crossroads they could lose right-hander Chris Tillman to free agency after this season and third baseman Manny Machado, center fielder Adam Jones and closer Zach Britton after 2018.
The potential losses of those four former All-Stars make it imperative that the Os strengthen their farm system.
If anything, theyre moving in the other direction.
The Orioles have spent the least of any club in the past three amateur drafts, according to reported figures. Their combined payout of $18,647,700 during that period was nearly $6 million below that of the average club and more than $16 million below that of the top spender, the Rockies.
Meanwhile, the Orioles combined investment in international amateurs is believed to be the lowest in baseball over at least the past six years, according to figures reported by Baseball America.
The Os spent just $260,000 total on five international players during the 2016 calendar year, BA said. The Royals, at $1.5 million, were the next lowest spender outside of the Red Sox, who are banned from signing international players during the current signing period.
Elsewhere in the AL East, the Rays spent $3 million, the Yankees $2.7 million and the Blue Jays approximately $2.5 million -- though those teams were prohibited from signing any player for more than $300,000 for previously exceeding their bonus pools.
Little wonder, then, that the Orioles last week traded more than $1 million in international signing money for a pair of pitchers who had been designated for assignment, right-hander Damien Magnifico of the Brewers and lefty Paul Fry of the Mariners.
Such trades occasionally prove fruitful the Orioles acquired one of their better prospects in May 2015 by trading $655,800 in international signing money to the Astros for left-hander Chris Lee.
No sense keeping the money if the Os are not going to use it, right?
Getty Images
Dan Duquette, the teams executive vice-president of baseball operations, said the lack of spending on international amateurs is an ownership decision.
Its difficult to argue with the teams major-league success the Orioles have won the most games in the American League since 2012, including their 8-3 start this season.
The question, with so many of the Os stars approaching free agency, is whether the team might be headed for a crash.
Baseball America ranked the Orioles farm system 27th entering this season, 28th the year before that.
Billie Weiss/Boston Red Sox
Those people who knock our farm system, I say, Come out and watch our major-league club play, Duquette said. Weve got a lot of guys who came through the farm system. Weve used a bunch of guys to make trades when we were in contention, too.
We didnt have the prospects to acquire Chris Sale because the Red Sox trumped everyone in the international market, trumped everyone with their spending power. Now there is a hard cap on the international market.
Duquette is correct about the makeup of the Orioles major-league roster 12 of their current 25 players are homegrown if you include outfielder Hyun Soo Kim, a free agent from Korea. Seven of those, however, already were in the organization when Duquette took over in Nov. 2011, including Machado, second baseman Jonathan Schoop and right-hander Dylan Bundy.
The Orioles are not devoid of young talent first baseman/outfielder Trey Mancini has seven homers in 36 career at-bats, and some club officials believe that catcher Chance Sisco might contribute at the major-league level this season.
Other teams, however, are in a far stronger position.
We just have to get the most out of what we have, do the best we can with what we have every day, Duquette said.
Alas, the clock is ticking toward 2018.
Tillman, recovering from a right-shoulder issue, made his first rehabilitation at Double A start on Monday and could rejoin the rotation in early May.
Duquette believes the pitchers return date should have been sooner.
We probably could have done a better job getting him back, Duquette said.
Did the Orioles rush Tillman?
Im not sure we rushed him, Duquette said. Im just disappointed he didnt start the season with us. We had plenty of time to work with him. The shoulder was bothering him at the end of last year.
Duquette did not elaborate, but he was upset with how the Orioles medical staff handled Tillman, according to two sources with knowledge of the situation.
Obviously, its difficult to extend the season and pitch in the playoffs like Chris has in two of the last three seasons, Duquette said. Our approach was designed so he will be available again this year in October.
Nick Turchiaro-USA TODAY Sports
The Blue Jays, at 2-10, already look like a likely seller. Neither right-hander Aaron Sanchez (blister) and lefty J.A. Happ (elbow) is expected to be out long, but third baseman Josh Donaldson likely will miss 2 to 4 weeks due to his latest calf issue, sources said.
Whatever happens, its doubtful the Jays would pursue a major overhaul. They sold approximately 2.5 million tickets before the season even began, sources said, and do not want to lose the momentum theyve generated in the market since the second half of 2015 momentum reflected not only by their attendance, but also in their television ratings.
That said, the Jays are the oldest team in the majors, and they could trade their top potential free agents (right-hander Marco Estrada, left-hander Francisco Liriano, right fielder Jose Bautista) and still be quite competitive next season.
Their more difficult decisions, assuming good health, would be whether to move Donaldson and, to a lesser extent, Happ, both due to become free agents after 2018.
As it stands, the Blue Jays rotation is perilously thin, even if Sanchez and Happ return relatively quickly; Alex Anthopoulos, the teams previous GM, included left-handers Daniel Norris and Matt Boyd in a trade for David Price in 15 and righty Jeff Hoffman in a deal for Troy Tulowitzki.
Those deals helped propel the Jays to back-to-back appearances in the ALCS and an AL-leading attendance of 3.39 million last season the teams highest since it drew 4 million-plus for three straight years from 1991 to 93.
A strategic re-set will be necessary at some point. A major deconstruction would be a tough sell.
Rick Scuteri/USA TODAY Sports
Brewers right fielder Ryan Braun will achieve 10-and-5 status and the right to veto any trade on May 14, sources said, not the date that other reports suggested, May 24.
The Dodgers currently are one of six teams that can acquire Braun without his permission. Braun would gain complete leverage once he is a 10-and-5 player 10 years of major-league service, five consecutively with the same club.
But for all intents and purposes, little will change.
Its no secret that Braun prefers to be with a team out west the six teams at the start of last season were the Dodgers, Angels, Giants, Padres, Diamondbacks and Marlins (Braun attended the University of Miami).
Say the Dodgers waited until July 31; what would Braun do, hold out for another year on his contract that already guarantees him $80 million from 2017 to 20?
At best, he would receive a much lesser inducement, one that he would be almost obligated to accept unless, of course, he wanted to stay with the Brewers.
Braun, talking about his looming no-trade protection with MLB Networks Jon Paul Morosi, mentioned his ongoing communication with Brewers owner Mark Attanasio, general manager David Stearns and assistant GM Matt Arnold.
I dont think (the no-trade protection) is really going to be much of a factor at all, Braun said. . . . I dont foresee it having much of an impact on anything moving forward, just because of my relationship with Mark, David and Matt.
*What the heck is going on with Jose Bautista, who is batting .136 with a .446 OPS after 53 plate appearances?
Father Time is undefeated, one rival executive said.
Bautista, 36, looked great at the start of spring training, not-so-great after he returned from the World Baseball Classic. His offensive struggles seem all the more curious considering that he is running better than he did last season, and defending better, too.
Its still early, but Bautistas contact percentage is 68.1 percent, down from his career rate of 80.5 percent, while his swinging-strike percentage is 12.1 percent, up from his career average of 7.6 percent.
Jordan Johnson/Jordan Johnson-USA TODAY Sports
*At the other end of the spectrum, how much faith should the White Sox place in right fielder Avisail Garcia, who is batting .447 with a 1.128 OPS after 51 plate appearances?
Garcia had a more prolonged hot streak to start 2015, producing an .872 OPS through May 17. He finished with a .675 OPS and barely improved upon that in 2016.
So, why should this season end up any differently?
Garcia, after dropping about 15 pounds in the off-season, told White Sox officials that he feels freer and looser in his upper body. His ability is not in question he has a career .808 OPS with runners in scoring position, as opposed to a .678 OPS with no one on base. Perhaps now, with only two years of arbitration remaining before free agency, he is improving his focus and maturing into the player the Sox envisioned.
He is still only 25.